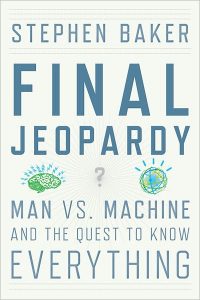 What if there were a computer that could answer virtually any question? IBM engineers are developing such a machine, teaching it to compete on the quiz show Jeopardy. In February 2011, it will face off in a nationally televised game against two of the game's greatest all-time winners, Ken Jennings and Brad Rutter. Final Jeopardy tells the riveting story behind the match.
Final Jeopardy carries readers on a captivating journey from the IBM lab to the podium. The story features brilliant Ph.D.s, Hollywood moguls, knowledge-obsessed Jeopardy masters — and a very special collection of silicon and circuitry named Watson. It is a classic match of Man vs. Machine, not seen since Deep Blue bested chess grandmaster Garry Kasparov. But Watson will need to do more than churn through chess moves or find a relevant web page. It will have to understand language, including puns and irony, and master everything from history and literature to science, arts, and entertainment.
At its heart, Final Jeopardy is about the future of knowledge. What can we teach machines? What will Watson's heirs be capable of in ten or twenty years? And where does that leave humans? As fast and fun as the game itself, Final Jeopardy shows how smart machines will fit into our world — and how they'll disrupt it.
Get the eBook version of Stephen Baker's Final Jeopardy: Man vs. Machine and the Quest to Know Everything a month before the epic February 2011 event— A nationally-televised face-off between Jeopardy! all-time winners Ken Jennings and Brad Rutter, and an IBM-engineered computer named Watson. The eBook's final chapter will divulge the winner and analyze the match, and will be available to readers as a free update directly after the event finale airs.
And about Houghton Mifflin Harcourt:
HMH is a Boston-based publishing company tracing its roots back to the 1830s. Over the years, HMH launched many notable careers, including those of Willa Cather, Carson McCullers, Philip Roth, Paul Theroux, Robert Stone, Jhumpa Lahiri, and Jonathan Safran Foer. The company also numbers Tim O'Brien, Edna O'Brien, Cynthia Ozick, and Ward Just among its fine authors of fiction. HMH's nonfiction list features seminal works by Winston Churchill, Arthur Schlesinger Jr., John Kenneth Galbraith, Rachel Carson, Jane Goodall, Eric Schlosser, James Carroll, and Richard Dawkins. Among our poets we rank the former poet laureate Donald Hall, Galway Kinnell, Grace Schulman, Alan Shapiro, and the winner of the Pulitzer Prize in 2007, Natasha Trethewey. HMH publishes the works of J.R.R. Tolkien, The Best American Series®, The Peterson Field Guides®, the Gourmet Cookbook and other culinary classics, and acclaimed books in the fields of science, sports, history, and current affairs.