About Jacquie
Growing up on Long Island, New York, I fell in love with romance at an early age. I dreamed of being swept away by a dashing rogue riding a spirited stallion.
When my hero finally showed up, he was dressed in jeans and drove a Volkswagon, but I recognized him anyway. We married after both graduating from Hofstra University and are now living our happily-ever-afters in Atlanta, Georgia, along with our very bright and active son who is a dashing rogue in the making.
Jacquie also blogs regularly on The Whine Sisters.
Jacquie's Latest Release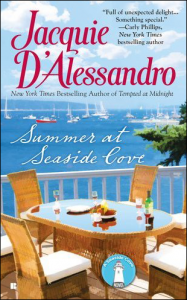 After Janie Newman's half sister Laurel steals her boyfriend, Jamie leaves New York and the humiliation behind for the island of Seaside Cove, North Carolina. But the cozy cottage she booked turns out to be a rundown bungalow. And she's not alone. Her drama-prone mother, angst- ridden niece and newly dumped Laurel all follow her down. With a cottage this crowded, will she ever have a chance at finding love again?