These books are "Sweet!" Sweet Justice , Sweet Revenge and Sweet Reward by Christy Reece is action-packed, dark, romantic suspense with strong characters and fast paced adventure. Barbara Vey catches up with Christy atRWA in New York and they chat about her books, her life and her pets. Yes, her pets. You can't have a pet named "Turdy the turtle" without commentary from Barbara Vey.
Though the fun banter is entertaining it also gives insight to Christy's life and her novels. The author's dark romantic suspense has been a hit with readers both male and female. The books have it all and all three will be available this year.
Sweet Justice is out now!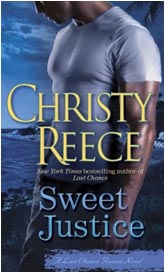 About the book- LIVE FOR HONOR. DIE FOR LOVE.
Honor Stone is a young, idealistic FBI agent when her path collides with Seth Cavanaugh. For a girl who has never walked on the wild side, the dark and dangerous Seth is a temptation she can't refuse. But then Seth walks out the door and out of her life. Five years later, Honor is an operative with the elite Last Chance Rescue organization and Seth is a desperate ex-cop searching for his missing niece—one of many young women who have mysteriously vanished from college campuses. Going undercover, Honor will attract the maniacal cult leader behind the kidnappings and find a way to work with Seth—while steering clear of the passion and need that's just one touch away from explosion. Seth knows he had all the right reasons for the wrong he did five years ago. And from the moment he sees her—and takes her in his arms again—this former undercover man will risk everything for one more chance with Honor. Read the Excerpt
Sweet Revenge is out in October.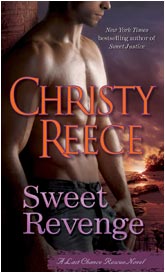 SOME DESIRES ARE FORBIDDEN.
Jamie Kendrick went on a trip to hell at the hands of Stanford Reddington, a monster protected by money and power. Asking for LCR's help, Jamie makes plans for her revenge. And Dylan Savage, one of Last Chance Rescue's most skilled operatives, is given an assignment he despises but can't refuse—train the lovely Jamie, but thwart her revenge plot at all costs. With tender ruthlessness, he pries open her most intimate secrets—and the attraction they've both tried to deny explodes into a scorching love affair—an affair that Dylan has to end. Months after Jamie stormed away from Dylan and LCR, the two meet again—at the home of Stanford Reddington. In the grips of hurt, anger, desire, and undercover danger, Jamie and Dylan will risk more than a broken heart: they're risking everything to stop an evil fiend from destroying more lives, including their own. Read the Excerpt
And Sweet Reward is out in December.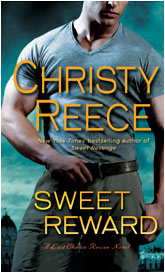 WHEN RISK IS THE REWARD—LET THE DANGER BEGIN
Adrenaline junkie Jared Livingston has found the perfect blend of exhilaration and danger in his new job at Last Chance Rescue. Raised to depend only on himself, Jared tried marriage, but the end of the relationship renewed his belief that he was meant to be a loner. Now a desperate plea from his ex-wife puts Jared in the unique position of using the skills she despised to rescue her missing daughter. The case brings Jared face-to-face with Mia Ryker, the only agent ever fired from LCR—for playing too far outside the box. Now Mia's back, and as a team, they're as compatible as fuel and fire—blowing off tension in each other's arms, blowing open the secret life of a wealthy philanthropist and his shameful dealings. Their search for the innocent child takes them to places neither have been before—to the edge of danger and to the edge of their hearts.