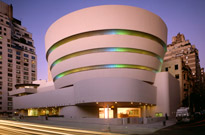 L. McMaken
1-1-12
Cincinnati, OH
The Guggenheim Museum recently announced they will become the first museum to release an exhibition catalogue e-book. In conjunction with their catalogue, they will also be digitizing many of their out-of-print titles, essays and historical materials and they will be offered for purchase at their website as well as through iTunes.
Their e-catalogue offers readers the ability to search full text or citations, bookmark pages, take notes, and enlarge images. Currently the catalogue is available in formats for iPad, Kindle and Kobo, but will soon be available in all eReader formats.
The museum is also offering of their titles free. "Selections from key museum titles dating back to the founding of the Guggenheim in 1937 are now freely accessible to the public through guggenheim.org/publications. Over 60 catalogues were scanned in their entirety with the help of the Internet Archive project and can now be read online. Visitors can flip through pages of classic titles such as Alexander Calder: A Retrospective Exhibition, published in 1964; Lawrence Alloway's groundbreaking 1963 catalogue Six Painters and the Object; or theSolomon R. Guggenheim Collection of Non-Objective Paintings, one of the museum's first publications."
Their children's "guide" to the Guggenheim,I'd Like  the Goo-Gen-Heim, a book originally offered in 1970 and illustrated by A.C. Hollingsworth is also available as an eBook.