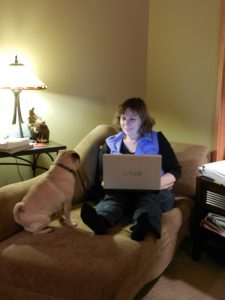 My "desk" is really a chaise lounge. (I know, I know, sounds romantic, doesn't it?) Gee, maybe it is!!!
Because of neck problems and because laptops came along, I gave up on a desk long ago. Now, I usually write with my feet up and a pug at my side. Jackie O No is always with me and candles are usually lit. In the winter, I have a fire lit in the adjoining living area. I keep a cold drink and a hot one at hand, and if I'm lucky, I can transport myself into my story so deeply that I'm not aware of the office or that I'm typing. It's weird, I know, but the truth.
So here are some shots of the spot where all my stories are written. The chaise, the candles, and the messy piles of books, notes, pens and whatever. (I didn't clean up or stage the office—what you see is definitely what you get.) Truth be told, the closer I get to the end of a book, the messier my work area gets. Stuff piles on all surfaces and on the floor and when I finally write "the end" and sleep for a day or two, I look around the mess and can't believe it. Fortunately, I clean up before I dive into the next book!
Lisa Jackson is the New York Times bestselling author of more than 75 novels, including WICKED GAME (written with Nancy Bush), SHIVER, FATAL BURN, DEEP FREEZE, THE MORNING AFTER, and ABSOLUTE FEAR. She has over ten million copies of her books in print. She lives with her family and an eighty-pound dog in the Pacific Northwest. Readers can visit her website at www.lisajackson.com.
Bonus: Check out her book trailer for DEVIOUS