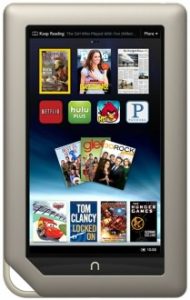 The Nook, Barnes & Noble's eReader platform is now available on the web, meaning Nook users have access to their library of eBooks online. The new option works very similar to competitor Amazon's platform that enables access to users eBooks anywhere.
B&N is promoting their new platform by giving away a number of eBooks. From their press release: "To promote the service, Barnes & Noble is giving away six free eBooks throughout July 26th, including: Map of Bones byJames Rollins, Sex and the City by Candace Bushnell, The Vow by Kim Carpenter, The Boxcar Children Summer Special by Gertrude Chandler Warner, Brave by Tennant Redbank and Perfect Island Getawaysby Patricia Schultz."
Barnes & Noble is also offering free children's eBooks to their Nook Tablet customers. As part of a community effort to attract young readers, Nook Tablet purchasers will receive a promo code the allows them to download a selection of free eBooks.
According to their press release: "The promo is a part of the book retailer's "Nook Kids Summer Reading Program," which is designed to keep kids reading throughout the summer (through August 5) and is for readers aged 12 and up and includes the books: Blue Bloods by Melissa de la Cruz; Angel Burn by L. A. Weatherly; The Enemy by Charlie Higson; and Jessica's Guide to Dating on the Dark Side by Beth Fantaskey."