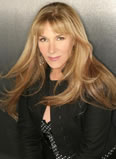 Heather Graham's
Writers for New Orleans Workshop
December 14-16, 2012
New Orleans, Louisiana
at
Hotel Monteleone
French Quarter
New Orleans, LA – Bestselling author, Heather Graham, is excited to announce the Sixth Annual Writers for New Orleans Workshop. Beginning Friday evening with a welcome party hosted by Erin McCarthy New York Times best-selling and award-winning author of more than forty works of fiction including romance, suspense, paranormal and young adult fare.
The weekend will be filled with workshops and panels from industry professionals, editors, agents and authors. There will also be fun-filled parties, get-togethers and opportunities to meet authors, and readers.
Special Guests
David Morrell
Jonathan Maberry
Eileen Dreyer – aka – Kathleen Korbel
Attending Authors: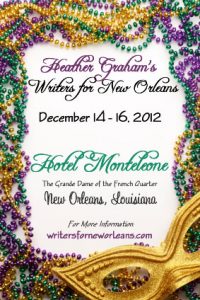 Cherry Adair
Erin McCarthy
Richard Devin
Kathleen Pickering
Traci Hall
Agents / Editors
Thomas Colgan, Executive Editor Penguin Books
Brent Chapman, Shadowfall Publications
Leslie Wainger, Editor Harlequin
Paula Eykelhof, Editor Mira Books
Cherry Weiner, Cherry Weiner Literacy Agency
Industry Professional
Joan Schulhafer, Joan Schulhafer Publishing & Media Consulting
Special Hotel Rates
The hotel is offering a $129.00 room rate for our group
For additional details and to register
Conference space is limited and sells out early, so register today!
http://www.writersforneworleans.com/
ABOUT HEATHER:
New York Times and USA Today bestselling author, Heather Graham, majored in theater arts at the University of South Florida. Each year she hosts the Vampire Ball and Dinner theater at the RT convention raising money for the Pediatric Aids Society and in 2006 she hosted the first Writers for New Orleans Workshop to benefit the stricken gulf region. Married since high school graduation and the mother of five, her greatest love in life remains her family, but she also believes her career has been an incredible gift, and she is grateful every day to be doing something that she loves so very much for a living.