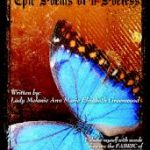 We are all aware of the power of language. Words enrich our lives and enable us to communicate ideas both simple and complex to one another. Without language, our world would be remarkably different. The task of the poet is to formulate language in such a way as to concentrate its meaning, to give it a charge of energy, so to speak. If you happen to appreciate language and poetry in particular, then a new collection from Melanie Greenwood might be added to your wish-list for summer reading.
The aptly named Words: Epic Poems of a Poetess is an extensive collection of poems from Zillionaires Publishing,LLC founder and CEO Melanie Greenwood. The poems are traditional and refreshing, even witty at times. Greenwood does not limit herself in terms of topics for her poetry. She pulls from a broad range of ideas, and her poems cover the entire spectrum of emotional experience. Inspiration, joy, grief, disappointment—it is all there in Words. The reader will truly get a sense of Greenwood's personality and her degree of determination from the start of this imaginative collection.
For anyone who appreciates the beauty and potency of poetic language, Melanie Greenwood has something to offer in Words: Epic Poems of a Poetess. The title is available now for interested readers. If you would like more information, then check out the following web address: http://zillionairespublishing.com/.
Disclaimer: Some blogs are paid for by a third party client, but the books are indeed read and all opinions are that of the reader.