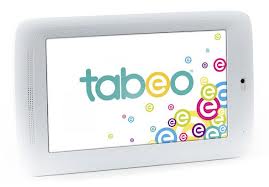 It's called the Tabeo, and it is a "7" Wi-Fi tablet with over 50 pre-loaded apps, a camera and 4GB or storage. Being introduced by Toys "R" Us, the tablet has a "bumper" to protect it, extensive parental controls and will sale for $149.
Expected in stores by October 21st, the Tabeo uses Google Inc.'s Android Ice Cream Sandwich as an operating system. Although, Toys"R"Us has had recent bestsellers with it's LeapFrog line of digital educational toys for kids, some think a tablet just for kids won't be a big seller. In an recent article in the LA Times, toy industry analyst Sean McGowan said; "You can jam 50 apps into this and make it an overwhelming value, but at the end of the day, kids may decide it's not cool and it's either Apple or nothing."
With a plethora of apps, educational games, book apps, parental controls and a tougher design all for less then $150, Toys"R"Us might have the hottest item this holiday season.