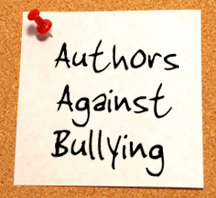 This Friday, October 19th, join hundreds of authors as they stand against bullying.
An idea begun between two authors, Mandy M. Roth and Yasmine Galenorn, it has taken root and spread to hundreds of authors. Here is the excerpt from Mandy M. Roth's website:
"If you've been following online media at all chances are you know who Amanda Todd is. She is the Canadian teen who committed suicide because of bullying. She posted a Youtube video that told her story. The comments on the video and the web have managed to both warm my heart and horrify me. Some commenters have made such hateful and vicious remarks about her taking her life that I won't credit them with repeating them. It's not just a few, but many disgusting negative things being said. I refuse to believe these people speak for the masses. I have to believe the majority of us don't think "she deserved it". And I'm guessing most of us are sickened of the stories we hear about bullying. Many of us have had our lives touched by bullying in some form. It changes you. You can often feel isolated, desperate and lose all hope. That's a dangerous place to be.
Without hope.
I'm not the only author who feels this way. In fact, a group of us have gathered together to stand united against bullying. We want those who are victims of bullying to know they are not alone and there is hope. On Friday Oct 19th Authors Against Bullying will be posting to our blogs, letting the world know we are not okay with bullying. We ask that you help us spread the word, that you join us on this day, read our posts, hear our stories and comment. Share your stories as well. Open lines of communication to help bring bullying to an end. October is National Bullying Awareness Month and we hope all of you join us in standing up against bullying."
If you'd like to participate, go to Mandy M. Roth's website for additional details. You don't have to be an author, you don't have to sign up on her site. You can post on your blog, website, or social media channels – but please help Authors Against Bullying.
Here are a list of the other authors participating. If bullying has affected you or someone you know, please help spread the word on this so we can – hopefully – spread the support to those going through it now.
Yasmine Galenorn
Lauren Dane
Michelle M. Pillow
Kate Douglas
Shawntelle Madison
Leah Braemel
Aaron Crocco
NJ Walters
Jax Garren
Shelli Stevens
Melissa Schroeder
Jaycee Clark
Shawna Thomas
Ella Drake
E.J. Stevens
Ashley Shaw
Jeaniene Frost
Rachel Caine
Kate Rothwell
Jackie Morse Kessler
Jaye Wells
Kate Angell
Melissa Cutler
PT Michelle
Patrice Michelle
Julie Leto
Kaz Mahoney
Cynthia D'Alba
Jesse L. Cairns
TJ Michaels
Jess Haines
Phoebe Conn
Jessa Slade
Kate Davies
Lynne Silver
Taryn Blackthorne
Margaret Daley
Alyssa Day
Aaron Dries
Lisa Whitefern
Rhyannon Byrd
Carly Phillips
Leslie Kelly
Janelle Denison
Graylin Fox
Lee McKenzie
Barbara Winkes
Harmony Evans
Mary Eason
Ann Aguirre
Lucy Monroe
Nikki Duncan
Kerry Schafer