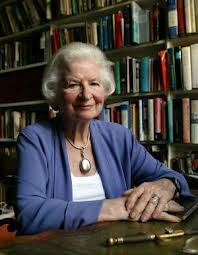 In it's 57th year of honoring outstanding women, the Sacla Lifetime Achievement Award was presented to bestselling author P.D. James because she had "continued to enthrall millions around the world with her books across six decades."
The U.K. award "was founded in 1955 by the late Tony Lothian OBE, Odette Hallowes & Lady Georgina Coleridge to celebrate women's achievements and an environment in which women might meet." Each year the organization gives several awards to women.
James is a bestselling author and the winner of numerous writing awards. She's written over twenty books in the crime/mystery genre and many of those novels have been adapted for film.
Ms. James said of winning the award: "During my long life I have seen remarkable and far-reaching changes in the influence, status and achievement of women, and though there is much to be done, not least in the fields of business and politics, it is right that once a year we celebrate together what women have contributed in so many areas of our national life."
Also winning at the awards were writer and activist Zainab Salbi, the Team GB Olympic and Paralympic women medallists, Doreen Lawrence and Alzheimer's campaigner Kate Woolveridge.