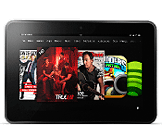 Just in time for the holiday gift giving season, online retailing giant, Amazon just announced it is beginning the shipment of their Kindle Fire HD 8.9″ tablet. This newest entry into Amazon's line of tablets will retail for $299. At a size that is in between the large iPad and the new iPad Mini, the Fire is taking on competitor Apple with a product that reviewers are giving high marks.
The Fire will also be available in brick-and-mortar stores like Best Buy and Radio Shack, and their 4G version of the Kindle Fire will ship next week; it will retail for $499. They are also offering 4G LTE package to subscribers for $49 per year.
Here's more from their press release:
"Kindle Fire HD has been Amazon's best-selling product worldwide since launch, and that was before we even started shipping the best tablet we've ever built," said Dave Limp, Vice President, Amazon Kindle. "With the holiday season upon us, we're excited to make our$299 Kindle Fire HD 8.9" available early—we think customers are going to love web browsing, email, gaming, watching TV shows, reading magazines, and more on the large, stunning HD screen, with fast Wi-Fi and exceptional audio.
The new Kindle Fire HD 8.9" 4G, with groundbreaking 4G LTE data package, starts at $499 and will begin shipping on November 20.Amazon worked closely with AT&T to offer the most affordable 4G tablet data package. The 12-session AT&T 4G data package includes 250MB a session of data, a $10 Amazon Appstore for Android credit and 20GB of Amazon CloudDrive, all for a one-time payment of only$49.99. There are no monthly fees or annual contracts. The $49.99 package is only available for the first year of service. Customers can also choose to upgrade to 3GB or 5GB data plans from AT&T directly from the device. Kindle Fire HD 8.9" features the latest 4G LTE technology for ultra-fast mobile broadband, letting customers connect to the internet, stream, and download at speeds even faster than Wi-Fi. Unlike some 4G devices, Kindle Fire HD includes support for 10 bands, so even when a customer is in a place with no 4G LTE network they'll fall back to the fastest available network and won't lose coverage. All this with no compromises to battery or weight – Kindle Fire HD combines the most power-efficient LTE chipset available with a custom-designed 4G wireless modem that's only 2.2 mm thin."
For more information, click here.