Welcome, author Steven James.
I had nightmares writing my latest book, Opening Moves.
Some of the scenes were just too troubling for me, too real. I felt like I was staring in the face of pure evil.
Maybe it's because some of the information I included comes from actual crimes. When we read pure fiction we can reassure ourselves that at least those atrocities never occurred; history, on the other hand, doesn't afford us that option.
For example, pedophile and killer Albert Fish was a real person. So was the necrophile Ed Gein and the cannibal Jeffrey Dahmer. And so are the bank robbers and killers Ted and James Oswald, who are, at the time of this writing, serving two life sentences plus more than 450 years at separate prisons in Wisconsin.
Opening Moves became especially personal to me since, according to Ted Oswald (who was eighteen when he was apprehended), one of their future targets was his high school physics teacher who'd given him a grade his father, James, didn't like. That teacher was my dad. During the trial, Ted recounted that James "was going to have me build a silencer in front of him [my father] and then shoot him in the belly and watch him barf."
My dad might very well have been one of the Oswalds' next victims if they hadn't been caught by the Waukesha County SWAT team.
When I look at our world, I see it threaded with both glory and horror, with awe-inspiring acts of love and deep furrows of unspeakable evil. Hope and terror spiral around us every day. And within us, too, I believe, in our own hearts. This is something Patrick Bowers is discovering for himself more and more in each book, and something I was reminded of once again while writing his story.
I hope that my books never glamorize evil, but instead do the very opposite and tell the truth about how disturbing and pervasive it is in our world. I also hope that, when possible, the stories can point us past the darkness and help us awaken to something better than the nightmares that all too often plague us in real life.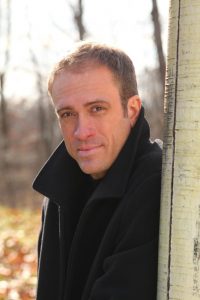 About Steve:
Steven James is the author of more than thirty books including the critically acclaimed Patrick Bowers thriller series. He has a master's degree in storytelling and has taught writing and creative communication around the world. When he's not writing or speaking, you'll find him trail running, rock climbing, or drinking a dark roast coffee near his home in eastern Tennessee.