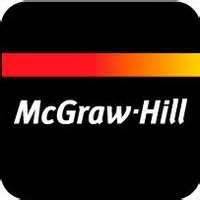 Publisher McGraw-Hill has sold its educational branch to Apollo Global Management. This sale is expected to end the educational textbook publishing of the company and create a financial services company. The final purchase price has been quoted at $2.5 billion, lower than the asking price of $3 billion. Here are more details from McGraw-Hill's press release:
_______________________________________________________________________________
The McGraw-Hill Companies today announced it has signed a definitive agreement to sell its McGraw-Hill Education business to investment funds affiliated with Apollo Global Management, LLC , for a purchase price of $2.5 billion, subject to certain closing adjustments.  As part of this transaction, McGraw-Hill will receive $250 million in senior unsecured notes issued by the purchaser at an annual interest rate of 8.5%.  The transaction, which is expected to close in late 2012 or early 2013, is subject to regulatory approval and customary closing conditions.
Upon closing, McGraw-Hill, which will be renamed McGraw Hill Financial (subject to shareholder approval), will be a high-growth, high-margin benchmarks, content and analytics company in the global capital and commodities markets.  With customers in more than 150 countries, McGraw Hill Financial expects 2012 revenue of approximately $4.4 billion with nearly 40% from international markets.  The Company will provide 2013 financial guidance for McGraw Hill Financial when it announces its 2012 fourth quarter and year-end financial results.
"After carefully considering all of the options for creating shareholder value, the McGraw-Hill Board of Directors concluded that this agreement generates the best value and certainty for our shareholders and will most favorably position the world-class assets of McGraw-Hill Education for long-term success," said Harold McGraw III, Chairman, President and CEO of The McGraw-Hill Companies who will lead McGraw Hill Financial once the transaction is complete.  "We were able to secure an attractive outcome and create additional balance sheet flexibility for McGraw Hill Financial."
Mr. McGraw added, "McGraw-Hill Education is a leader in digital learning with world-class content and enormously talented and committed employees.  As we begin the next chapter in our rich history, I am very proud of and grateful to all the McGraw-Hill Education professionals who are contributing so much to the company and to educators, administrators and students all over the world.  I look forward to seeing their continued success with the expertise and support of Apollo."
"We are excited about this announcement and what it means for McGraw-Hill Education," added Lloyd G. "Buzz" Waterhouse, President and CEO of McGraw-Hill Education.  "Apollo is a leading global alternative investment manager and its affiliated funds have made significant investments in learning companies for more than a decade.  McGraw-Hill Education's expertise and premier brands coupled with Apollo's resources represent a powerful combination."
Larry Berg, Senior Partner of Apollo said, "With a longstanding track record of investing behind leaders in education, Apollo is pleased to be acquiring a marquee business that has been a pioneer in educational innovation and excellence for over a century.  McGraw-Hill Education has a deep and impassioned management team, and we share their enthusiasm and strategic vision for the business.  We look forward to leveraging the company's leading portfolio of trusted brands and innovative digital learning solutions to drive growth through the ongoing convergence of education and technology on a global basis."
"Today's transaction marks a transformative time for our company, shareholders, customers and employees," Mr. McGraw said.  "This move builds on McGraw-Hill's strong legacy and gives us an unprecedented opportunity to focus on accelerating the growth of our iconic brands and leading franchises such as Standard & Poor's, S&P Dow Jones Indices, S&P Capital IQ, Platts and J.D. Power and Associates.  The strong trends driving global financial markets create enormous growth opportunities for McGraw Hill Financial.  As markets become more interconnected, as more borrowers around the world fund growth through the capital markets, and as technology produces more and more data in a complex world, our leading brands provide essential intelligence and independent benchmarks across asset classes and markets."
Upon closing of the transaction, McGraw Hill Financial will have considerable balance sheet flexibility.  The Company will use the estimated proceeds of approximately $1.9 billion, net of tax and certain closing adjustments, from this sale to sustain its share repurchase program, to make selective tuck-in acquisitions that enhance McGraw Hill Financial's portfolio of powerful brands, and to pay off any short-term borrowing obligations.