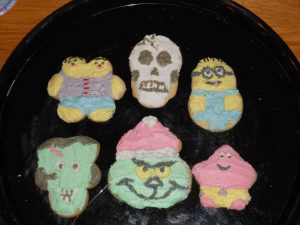 Author Kristina McMorris shares a truly funny holiday tradition with her family. Welcome, Kristina!
Without a doubt, I'd have to say my annual favorite is the Christmas Cookie Showdown. While other families might gather for a friendly evening of decorating sugar cookies in the traditional (i.e. normal) sense, the activity is, well, a bit different in the McMorris home.
You see, every year, a week before Christmas, we roll out the dough, pull out the cookie cutters, and prepare for a fierce competition. Our one and only rule? The cookie's décor must not reflect the intended shape. In other words, we don't frost bells to look like bells, or trees to look like—you guessed it—trees. Oh, no. That would be too obvious.
In a game that requires one-upping-creativity skills, an angel, for example, becomes Frankenstein; a snowman morphs into a Minion; a rocking horse becomes the Grinch; and a flower blooms into—yes, you're seeing that right—conjoined gingerbread twins. All of this without a drop of spiked eggnog, mind you. Is it a bit twisted? Probably. But my goodness, do we have fun. (Sometimes my husband and I even muster the courage to admit defeat to our two young sons.)
On that generous holiday note, I wish you and your loved ones a season full of laughter, cherished memories, and wonderful, imaginative surprises!
About Kristina:
Kristina McMorris is the award-winning author of BRIDGE OF SCARLET LEAVES, LETTERS FROM HOME and "The Christmas Collector"  in A WINTER WONDERLAND. She currently resides in the Portland, OR area, where she is a member of several literary organizations including Willamette Writers, RWA®, and Rose City Romance Writers. Please visit her online at www.KristinaMcMorris.com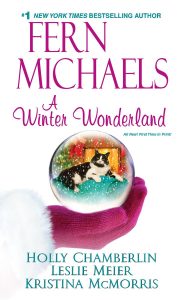 ABOUT A WINTER WONDERLAND:  
Four special holiday offerings from today's favorite authors remind us that when love is on your list, you never have to stop believing…#1 New York Times bestselling author Fern Michaels headlines this sparkling Christmas anthology featuring four wonderful stories, all wrapped up in a beautiful holiday package that makes the perfect stocking  stuffer.
A WINTER WONDERLAND by Fern Michaels, Holly Chamberlin, Leslie Meier & Kristina McMorris