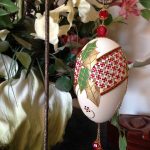 A gorgeous heirloom ornament, and a glimpse of Christmas past is shared by author Dianna Love. Welcome Dianna!
My earliest memory of Christmas was in an old frame house in Tampa, Florida.  We had an aluminum tree that was constructed in two halves so you could store it in the three-foot long Sears & Roebuck box it came in.  That tree sat on a wooden crate that had been draped with a blanket, which made it look even taller than its skinny six-foot height. We decorated it with little red ornaments that came in a pack of nine.  Compared to today's holiday decorations, our little silver tree was just one step up from a Charlie Brown tree, but we five kids thought it was magical.  We each had one gift under the tree and spent every waking minute trying to figure out what we were getting.
For me, Christmas gifts have always been about the children.  Our friends and family stopped exchanging adult gifts years ago. Instead, we just enjoy sharing a meal and time to visit with each other.  We like to use December as a moment to pause and catch up with those we've missed seeing.  We have exchanged ornaments at times over the years, which was a lot of fun. I have an eclectic mix of ornaments and each one means something special to my husband and me. Our tree is not a designer work of art, but a hodgepodge collection of good memories.
I have a hand-cut egg collection, which includes one of my favorite ornaments. My husband gave this beautiful holiday egg art to me one year and I now keep it on a stand in my curio when it isn't hanging on a branch of our tree during the Christmas season.  The woman who created many of my decorated eggs used a dental drill to cut the intricate patterns that were her signature design.  She passed away years ago, but I know she's smiling over how her art lives on in many people's lives and
homes.
Now you'll know where the inspiration came from for a character in my new SLYE TEMP romantic thriller series (2013) who also collects hand-cut eggs, but she collects her beautiful creations for a far different reason than I do.   Yes, I am a tease when it comes to stories.
Here's wishing everyone a blessed holiday season spent enjoying your own traditions with family and friends.
NOTE: Dianna is giving away a signed copy of Last Chance to Run to one lucky commentor.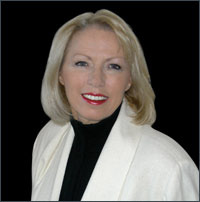 About Dianna:
New York Times bestseller Dianna Love always liked to do things big…and still does.  After spending many years climbing high in the air to create unusual marketing projects for Fortune 500 companies, she's now released her energetic muse on creating high-octane thrillers and urban fantasy.  Her first book won the prestigious RITA® Award (as Dianna Love Snell) and she co-writes two best selling series with #1 NYT best seller Sherrilyn Kenyon.  In 2012, Dianna launched the national Keeper Kase™ program for fans of e-books and her new Slye Temp romantic thriller series will be released in 2013.
When not speaking at national and international events throughout the year, Dianna lives in the metro Atlanta area with her motorcycle-instructor husband and a tank full of unruly saltwater fish named after celebrities.   For more on Dianna visit www.AuthorDiannaLove.com
For more on Dianna Love, visit www.AuthorDiannaLove.com, on Twitter @DiannaLove or on Facebook at "Dianna Love Fan Page" where she has a Reader Lounge with extra content and contests throughout the year. You can find Dianna's latest release by clicking here.