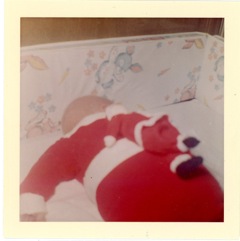 Author Holly Chamberlin, shares a holiday item that is a moment in time. Welcome, Holly!
Asking me to talk about my favorite Christmas ornament is very much like asking a doting mother to publicly admit to having a favorite child. It's probably not going to happen and it probably shouldn't happen. Okay, holiday ornaments aren't constructed of flesh and blood but I've always had a habit of investing inanimate objects with a value more than their monetary or artistic worth.
So, at the risk of offending the boxes of blue and red glass balls my husband's daughter gave us one year, and the crystal handcrafted icicles I found at an antiques store back in New York, let me gather my courage and tell you about my favorite holiday ornament.
This special piece did not start its life as an ornament or decoration but as a doll for Baby Me. I was born at the end of November and for Christmas that year long, long ago my parents, whom I love dearly in spite of this, dressed me in a red Santa suit. To complete the ensemble, they gave me a little rag doll dressed in the same, from booties to hat. There are faded photographs of Baby Me and Santa Baby asleep in our crib – face and tummy down. As mentioned, these were the old days.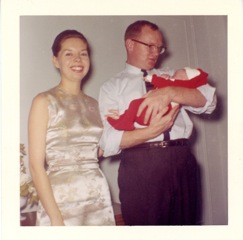 Over the years, Santa Baby lost a good deal of his stuffing and some of the fabric on his peaceful little face. At one point, when he became too fragile to spend the holidays in my bed, he was elected to a place of honor in the boughs of our family's Christmas tree, the sweetest, if not the brightest or most glittering decoration by far.
More time passed and I grew up and moved out of my parents' home, Santa Baby tucked safely in with my clothes and books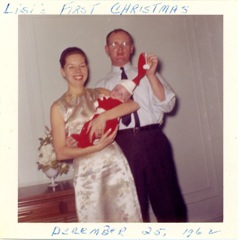 and trinkets. From Brooklyn to Manhattan; from Manhattan to Boston; and from Boston to Portland, Maine, Santa Baby has been my loyal companion, fondly welcomed each December and bringing with him memories of magical holidays past, when my grandparents and my uncle George were still with us, and I didn't have to worry about calories and cholesterol when it came to Christmas cookies, and we still listened to Johnny Mathis' and Bing Crosby's holiday recordings on vinyl.
Eventually, Santa Baby's health deteriorated to the point where I decided to resettle him in a little box for safekeeping. Now, at Christmas, he reclines comfortably among wrapped presents at the base of the enormous tree my husband and I place in front of the living room window overlooking our street. Miraculously, our cats have always chosen to ignore (or, to respect?) Santa Baby, for which I am beyond thankful. There was the time Fifi brutally attacked the plush winged lion, King of the Island of Misfit Toys, but he – and Jack and Betty and Cyrus – have never disturbed the slumbering Santa Baby.
In a few weeks' time, Santa Baby will make his fiftieth annual appearance in my home. I think he deserves a special reception – don't you?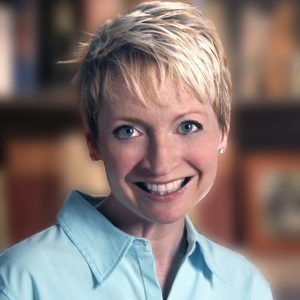 About the Author:
HOLLY CHAMBERLIN was born and raised in New York City, and now lives with her family in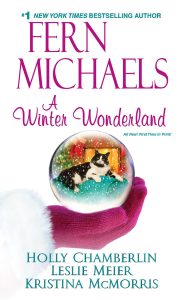 Portland, Maine. She is the author of 9 novels and previously worked as an editor at several publishing houses in New York. Readers may visit her website at www.hollychamberlin.com.
Holly Chamberlin's "The Joy of Christmas" will be included in A WINTER WONDERLAND, the holiday anthology available now.  With novellas by Fern Michaels, Holly Chamberlin, Leslie Meier & Kristina McMorris, A WINTER WONDERLAND features four special stories to remind us that
when love is on your list, you never have to stop believing.
A WINTER WONDERLAND by Fern Michaels, Holly Chamberlin, Leslie Meier & Kristina McMorris