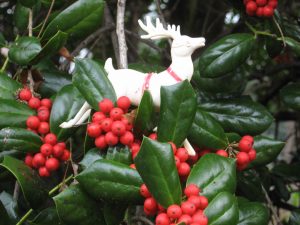 A reindeer, family, holiday guests are memories shared by author Nancy Northcott. Welcome Nancy!
One Lone Reindeer
A single reindeer graces our Christmas tree, but he isn't Rudolph.  His nose is plain white, like his body.  His eyes are red, a color choice I can't explain, but not his nose.  I'm sure he used to have 7 buddies and possibly an eighth who did have a red nose.  They're gone, though, and have been for so long that I've no idea what happened to them.
When my parents downsized, we all understood their future Christmas trees would each fit on a tabletop.  We divided the ornaments, but there was no longer a set to match this guy.   My mom was for tossing him–no set, after all.  I couldn't  though.  I always loved the story of Rudolph and the idea of reindeer pulling Santa's sleigh.  So this guy came to live with us.
The first year we had him, the little loop for the hook snapped off, so we prop him up in the tree's branches, as we did in our holly bush here.  He's a link with all the past Christmases past I can remember.
One of the things I most enjoyed about childhood Christmases was having my mom's cousin and her husband, Dot and Moe, come for a few days.  They always arrived before dinner on Christmas Eve in a car laden with gifts.  I used to sit  in front of the living room windows and watch for their car in the growing darkness.  Having them arrive made me feel as though the holidays had truly begun.
That division of holiday decorations included our old stockings.  The dh and I had a newer, matching set made by his sister for our first married Christmas, but I'd continued to hang my original stocking on my parents' mantel, adding one for him.  As I folded that worn stocking, which was red felt decorated, coincidentally, with a cartoon-style, white reindeer, Mom told me Dot and Moe had given it to them for my first Christmas.
My grandfather lived with us in the last years of his life, so my aunts and uncles and cousins frequently came for Christmas.  Sitting down to dinner for seventeen wasn't unusual. This reindeer (and probably his buddies) hung on our Christmas trees all those years.
That became less common as we cousins grew up and cared more about spending Christmas at home.  When you've been away at school, getting in the car to travel for the holiday loses a lot of its appeal.
The first ornaments I bought on my own came from K-Mart.  I splurged on the tree and didn't have money for ornaments, too.  The dh's decorations were bought inexpensively or made by his sister, who does beautiful work.  Yet many of those inexpensive purchases, along with those made for us or given to us by friends and family, are among our favorites.
One of our most prized decorations is a white Christmas-tree-shaped ornament decorated with dyed Cheerios.  The boy made it in preschool, and hanging it on the tree reminds us of the days when our college sophomore wasn't even "waist-high to a grasshopper," as the saying goes.  For us, ornaments are storehouses of memory, treasured not only for what they are but for what they've seen and what we experienced in their presence.
I'm sure this reindeer didn't cost much, either.  He's plastic and only has one color, and my parents bought most of their ornaments at the dime store in Mooresville, NC, or the Western Auto in Davidson, where we lived.  But that doesn't make him less special.  He's a tie to a past that's gone, a part of memories I hold dear.
What are your favorite memories, Christmas or otherwise?  How do you like to spend the holidays?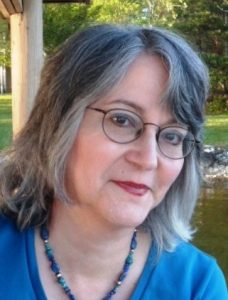 About Nancy:
I love comic books, fantasy and science fiction. I try to get to Dragon*Con every year. I'm also a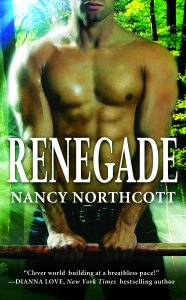 lifelong history geek and Anglophile. I majored in history and spent a fabulous summer studying Tudor and Stuart Britain at Oxford University. I am an RWA PRO member, I've served my local chapter, Carolina Romance Writers, as president, program chair, workshop coordinator, and newsletter co-editor. I also belong to two home-away-from-home chapters, Heart of Carolina Romance Writers and Georgia Romance Writers, and have served on the PRO advocacy committee of RWA. As a three-time Golden Heart finalist, I also belong to The Golden Network. I'm currently the secretary of that chapter.
Renegade is her first novel in the dark fantasy series "The Protectors". You can follow this link to her website, and follow this link to purchase Renegade or this one.