Snow, Popsicle sticks and horses are part of the lovely Christmas memories for author Lois Greiman. Welcome Lois!
When my children were small their favorite babysitter helped them make ornaments out of Popsicle sticks. They were little sleds painted red and silver and hung from the tree by tiny bits of twine. Every year when I pull them out I remember how we used to pull the kids around on their sleds behind our horses. Snow would fly up from hooves and skids. The kids would shriek with joy then trail off to the house for hot chocolate. We still have the ornaments. We still have the horses. Only the children grew up.
ABOUT LOIS: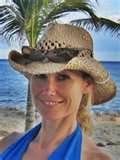 Lois Greiman was born on a cattle ranch in central North Dakota. After graduating from high school she moved to Minnesota to train and show Arabian horses.
With more than two million books in print, Greiman is a two-time RITA finalist, she has won such prestigious honors as Romantic Times Storyteller of the Year, MFW's Rising Star and the LaVyrie Spencer Award.  She currently lives with her family in Minnesota, where she is actively involved in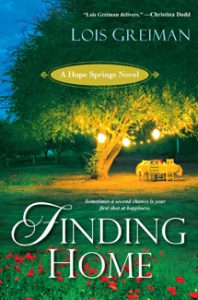 horse training and animal rescue.
Greiman's newest novel, FINDING HOME, is a heartwarming story of country living and finding joy in the most unlikely places in this first in a three-part series set in the delightfully quirky town of Hope Springs. More info is at www.LoisGreiman.com
Finding Home from Kensington Publishing is available now. You can find it by clicking here.