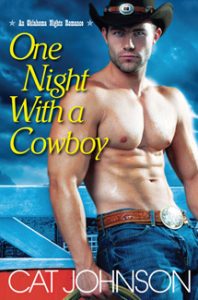 Rodeo, cowboys, and horses – all things western and romantic in Cat Johnson's newest release – One Night With a Cowboy – the latest book in her Oklahoma Nights series.
Part-time Oklahoma cowboy Tucker Jackson is competing in a rodeo along with his buddy, Jace. Jace has been on Tucker's back to start dating again, but Tucker's not interested – not since his ex-wife cheated while he was deployed.
But when two hot city-girl blondes catch the cowboys' eyes, and the four start up a conversation, Tuck finds he's ready to get back on the horse, so to speak. How complicated could a one-night stand be? Plenty complicated  – when the woman he never expected to see again turns out to be the new English professor at the university where he teaches. And soon one night is turning into something neither wants to end…
One Sweet Ride…Oh yeah. A single look at the leggy blonde in the stands and Tucker Jenkins is ready to buck all night long. It's time to forget all about his cheating ex and his usual hands off policy.
One Hot Night…Becca Hart is an East Coast professor. Not a buckle bunny. But no degree can prepare her for the moves of the sexy bull rider she hooks up with at her first rodeo…or the shock of finding him at her first Oklahoma State University staff meeting.
One Happy Ending…Tuck knows it's all about holding on, no matter how wild the ride. Now he just has to convince Becca that a rough start out of the chute doesn't mean they aren't a smokin' combination…
"Cat Johnson continues to be one of my favorite authors. Whether it is in military, contemporary or the cowboy arena she definitely knows her alpha males." —Joyfully Reviewed
"One sexy romp with a sweet and hot hero you'll want to keep around for longer than one night!" —Lorelei James, New York Times bestselling author
About Cat: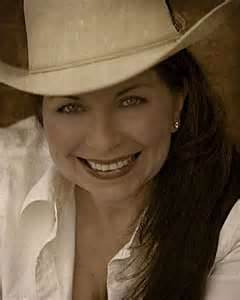 Cat Johnson is known for her creative research and marketing techniques. Her first contemporary Western romance, Rough Stock, was an Amazon bestseller. She is an active member of RWA and Authors After Dark. She lives in Poughkeepsie, New York.