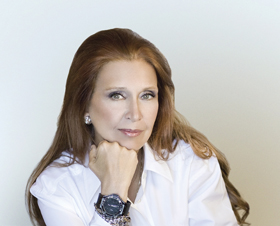 Author Danielle Steel, know globally for her steamy, bestselling romances, has announced she will be penning a children's book. Releasing in the the fall of 2014, the picture book Pretty Minnie in Paris will be published by Doubleday Books for Young Readers. Kristi Valian has been tapped to illustrate the book.
From Doubleday's press release:
Steel has one passion that her fans might not know about—her love for dogs. Pretty Minnie in Paris is inspired by the adventures of Steel's own teacup Chihuahua, and her love of Paris—where she resides part of the year. Steel's picture book tells the stylish tale of a fashionable Parisian pup out on the town … Steel lives in San Francisco and Paris, which inspired many of the scenes in Pretty Minnie in Paris. Over the years she has raised several beloved dogs, and this October 2013 brings the release of her next nonfiction work, Pure Joy (Delacorte Press), a memoir of Steel's most beloved family pets.
Ms. Steel has penned 16 previous children's books, as well as several non-fiction books.