Today, I get to welcome good friend and awesome author, Kate Douglas to Reader's Entertainment. Kate has legions of fans for her Wolf Tales series and her latest Dark Wolf releases, today! If you've ever wondered about the series back-story, as I have, Kate is giving reader's an inside view. Welcome Kate!
So, I get an email from my buddy Linda who says how about a blog post, you know, a little about the history behind Dark Wolf, where it comes from, who the players are? Like I don't want to talk about the book? Ha! This'll teach her…
I've wanted to write Lily Cheval's story since I wrote the final lines of Wolf Tales 12. When I left her, she was just a little girl who had discovered the entire history of the Chanku species—the fact that the shapeshifters had begun as alien refugees from a dying planet, castaways on a primeval earth that was populated by everything but humans. 

They were here first, and yet despite their advanced knowledge and their ability to shape shift, they had scattered across the globe and lost their memories of just who and what they were. Lily was the one to rediscover their past, and the world suddenly knew that not only were there shape shifting aliens living among them, they had first rights to this planet because they'd arrived first. Before the first primitive humans had evolved.
This was an entirely different premise than the one I started with when I wrote the first Wolf Tales stories of the Chanku—then they were lost souls, trying to find out what made them different, why they had abilities that had remained hidden for so long. Now, not only do they know, the world knows as well.
And that's where Dark Wolf begins. Lily has grown up as the acknowledged princess of the Chanku. Her father is still the über-alpha—Anton Cheval has lost none of his charm, but as a father he can be a real pain in the butt. Imagine being a young women with a father who can read your mind? Lily has become adept as blocking dear old dad, but she loves her father, admires him, and wants to find a man strong enough to not only stand up to her father, but one who is able to challenge her.
She's grown up with her beloved Alex—they shared a crib as infants, had their first sexual experience as young teens, and have become dear friends with benefits, but both of them know that there is more out there, that they will somehow find the perfect mate who will love them, and also challenge them.
But who? Lily's tough—she's smart, she's gorgeous, and she's the proverbial bitch on wheels. She's in San Francisco running one of her father's many corporations—remember, Chanku don't age like humans do, so Anton, now in his eighties, is as fit and handsome as a young man in his thirties—but he's backed off a bit so that Lily can finally come into her own.
And then she meets Sebastian Xenakis. Sebastian is a mystery—the son of a man who hates the Chanku, a young but powerful wizard in his own right with the ability to shift into a wolf using magical means. The connection between Lily and Sebastian is powerful, but so are the questions. A series of murders and rapes of young women—rape by human, murder by wolves—has everyone suspecting the Chanku. But Sebastian has been in both Montana and the San Francisco Bay Area where the attacks have occurred, and he's concerned that somehow he might be responsible.
When I began writing this story, I only knew a couple of things—that Alex Aragat and Lily Cheval would both find love, but it wouldn't be with each other. And that Sebastian Xenakis might or might not be the perfect mate for Lily. I didn't know, but as the story unfolded, I began to realize there was more to Alex than I'd suspected, more to Sebastian than I had ever imagined, and that while my favorite characters from Wolf Tales would still have a role in this new generation, the story belonged to Lily.
When I write a story, I start with my characters and a premise—essentially I asked Lily who the hell she would ever find as a mate? Her magic is strong, her mind is without equal, and she's got that interfering father who isn't going to approve of just any guy for his princess. Lily and Sebastian were wonderful, generous characters. They told their story and Alex told his, and suddenly I had a book in my hands that made sense, that led to the next story, and to others because the Chanku were much too real to me to ever walk away from their lives.
This first book comes out April 30. I don't know if this series will run to twelve novels and nine novellas like the original Wolf Tales did, but I do know there were a lot of children born over the course of those first novels, and now that all of them are grown, I can't wait to find out what they do with their lives. I hope you'll join me for the journey. As I finish stories, I'll be posting excerpts on my website at www.katedouglas.com. And please let me know what you think of this new series, and which characters you'd like for me to explore next. I can tell you that the second book, Dark Moon, is Igmutaka's story. Ig has known from the very beginning that Mikaela Star, the daughter of Mik Fuentes and Tala Quinn, was to be his mate. However, convincing Star isn't all that easy. And then, of course, there's Sunny Daye, who has been Ig's lover for many years.
Like I said, I don't always know what's coming, but thankfully the characters do. And they never hesitate to tell me.
If you haven't read the original Wolf Tales, you don't have to in order to follow along in Dark Wolf. But, if you're interested, I've donated an entire set of all 21 books (along with my full Dream Catchers and DemonSlayers series and a stuffed wolf, a squirrel and a pitbull/poodle mix) to Brenda Novak's annual Diabetes "For the Cure" Auction. Check out my listing at http://brendanovak.auctionanything.com/Bidding.taf?_function=detail&Auction_uid1=2930589
And thanks, Linda, for the invite! If anyone has any questions about the series or what's coming, I'm here to answer. And, to give away a copy of Dark Wolf to one lucky reader.
www.katedouglas.com
@wolftales
www.facebook.com/katedouglas.authorpage
kate@katedouglas.com
About Dark Wolf:
It is a new beginning for the Chanku. For so long they kept their shapeshifting ability secret, but now they have assimilated into the world in ways they once never thought possible. Still there are those who want to destroy them, with dark powers of their own…
A Bold New Beginning
The CEO of Cheval International, Lily Cheval chooses to live alone, but a series of rapes and murders leave her wary and worried for her fellow Chanku. Then she meets Sebastian Xenakis and the connection is intense and immediate. The son of a charismatic cult leader, Sebastian is a mysteriously sensual man who uses magic to shift into wolf form. He and Lily come together in a moment of supreme ecstasy, succumbing to a primal passion that leaves Lily shaken but utterly alive. Is Sebastian her lifetime mate or is he her worst enemy? 
Watch the Dark Wolf booktrailer:
About Kate Douglas: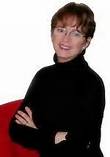 A life-long California native, Kate Douglas has been lucky enough to call writing her career for most of her adult life, but it wasn't until she discovered the world of the sexy paranormal that she really found her niche. She's having such a terrific time creating more Wolf Tales for Kensington's Aphrodisia line as the imprint's lead author, that she's still waiting for someone to call and tell her it was all a big mistake,—now with her new DemonSlayers series taking off, she's definitely having the time of her life. Married for almost forty years to her very own hero, Kate is mother to two amazing adults and "Dabba" to five perfect grandchildren—and two grand-dogs. Kate gives credit for much of her success to the fantastic cadre of generous and talented authors who have helped her over the years. She is a firm believer in the philosophy of "paying it forward."