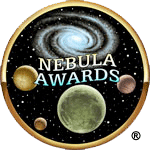 The Forty-Eighth Nebula Awards were presented this week and the winners announced. From an amazingly gifted group of science fiction/fantasy authors.
The Nebula is a non-juried award selected and presented by members of the Science Fiction & Fantasy Writers of America, "SFWA is a professional organization for authors of science fiction, fantasy and related genres.  Esteemed past and present members include Isaac Asimov, Anne McCaffrey, Ray Bradbury, and Andre Norton. SFWA informs, supports, promotes, defends and advocates for its members."
The winners of the 2012 Nebula Awards are:
Best Novel
 2312 by Kim Stanley Robinson (Orbit US; Orbit UK)
Best Novella
 After the Fall, Before the Fall, During the Fall by Nancy Kress (Tachyon)
 Novelette
"Close Encounters" by Andy Duncan (The Pottawatomie Giant & Other Stories)
 Short Story
"Immersion" by Aliette de Bodard (Clarkesworld 6/12) COMPLETE
Andre Norton Award for Young Adult Science Fiction and Fantasy
Fair Coin by E.C. Myers (Pyr)
Ray Bradbury Award for Outstanding Dramatic Presentation
Beasts of the Southern Wild, Benh Zeitlin (director), Benh Zeitlin and Lucy Abilar (writers), (Journeyman/Cinereach/Court 13/Fox Searchlight )
For a complete list of all the nominees, follow this link.