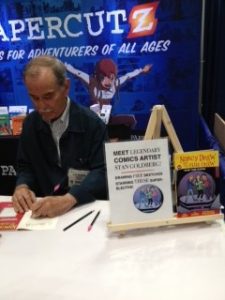 Several small comic publishers put in an appearance at BEA this year there are comic and manga publishers here.  One of our favorites is Papercutz and today they had award winning and well known illustrator Stan Goldberg not only signing his Nancy Drew graphic novel, but he included original drawings on the inside flap of the book.
Goldberg talked about a recent award he won that was presented in Las Vegas and how Stan Lee sent a video to the event to honor him.  Goldberg has known Lee since was 18 and Lee was 28 and the two have stayed in touch over the years.
Papercutz describes itself as "Popular with reluctant readers and gifted readers alike.  Papercutz graphic novels for kids, tweens, and teens include a wide range of genres, including humor favorite characters.  Papercutz is proud to be the only publisher exclusively dedicated to children's graphic novels."
Check out the video Stan Lee did for Goldberg below, or at www.stangoldberg.com.