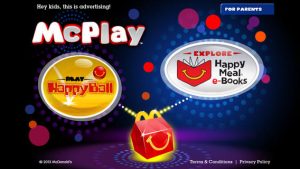 To encourage kids to read, McDonald's has introduced "McPlay" an app that will play their "interactive e-books" that will be given to kids with their Happy Meal.
http://www.youtube.com/watch?v=UtpcNIpsYvM&feature=youtu.be
The books are designed to teach kids how to eat healthy focusing on food groups and encouraging them to eat right. The first book to accompany a Happy Meal is "The Goat Who Ate Everything". Next up will be "The World's Greatest Cities", as McDonald's has partnered with DK Publishing to create the e-books. They are planning to release a new e-book each month.
Parents can download the free app for the interactive McPlay app by following this link. Currently, the app will only work with Apple products.