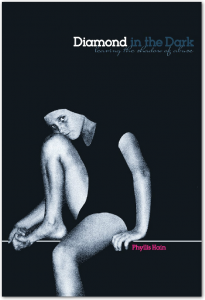 It's the season of hope and a time to be thankful. But, sometimes this season takes on a darker hue for some and they need help, they need a voice and they need a light in order to find their way out and into a world where they feel in control of their destiny.
This week's guest talks about her autobiography; Diamond in the Dark– leaving the shadow of abuse and through it we learn that, even when bad things happen, there are ways to move on, to get help, to find happiness and even to help others.
Phyllis Hain talks about how writing the story helped her, how difficult it was to recall some of those stories and how we can help others. She tells us what advise she would give a girl who tells someone she was abused and that person doesn't believe it. She talks about her personal experiences with her family and then with an abusive husband.
Listen to the podcast and learn what it's like to be a Diamond in the Dark.