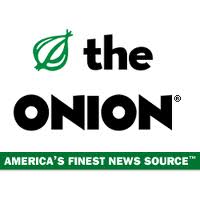 With demand for their print copy plummeting, the publishers of the satirical paper The Onion, have decided to cease their print publication. The paper was started in 1988 by two college students at the University of Wisconsin. The paper's hilarious take on pop culture, politics and the world at large quickly caught the attention of a young audience and it became a mainstay. It's creators have even generated several bestselling books based on the headlines and stories ripped from The Onion's pages.
Mike McAvoy, president of Chicago-based Onion Inc. said: "It's sad to see a print edition no longer exist, but it's important to see the Onion succeed."
The Onion's online presence however is flourishing, and even expanding, and it's profits has risen steadily. The growth of its digital and online audience has expanded with the inclusion of video items, and other services like producing 'fashion videos' for DSW shoes. They have also partnered with Amazon to produce a TV series tentatively titled, "The Onion News Empire." And according to Comscore, the Onion has a "50.6 percent of the audience between the ages of 18 and 34." A very enviable spot according to online retailers.
So while print editions of the Onion will now be a thing of the past, their biting satire isn't going away anytime soon.