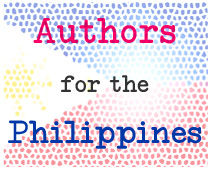 Typhoon Haiyan which ravaged the Philippines on November 8 has left massive devastation in it's wake. The storm was one of the strongest every recorded with sustained winds of over 145MPH, leaving over 4,000 people dead, and nearly $6 billion dollars in damages.
A number of well-known authors are helping support the disaster relief effort by donating signed copies of their works to the Authors for the Philippines. The effort is an online auction where bidders can win signed copies, have lunch with authors. win signed scripts and be named for a book character, and other literary goodies
The auction does end at 8 PM tonight (Nov 20) so you'll need to place your bid quickly.
Some participating authors are George R R Martin, Neil Gaiman, Kate Atkinson and David Nicholls.
The fundraiser was started by several British authors, and organized by Young Adult writer Keris Stainton. Several publishers including Penquin Random House are also making contributions to the cause.