FOR IMMEDIATE RELEASE
"HIDDEN BIBLE TABOOS" EXPOSES AN ALTERNATIVE VIEW OF CHRISTMAS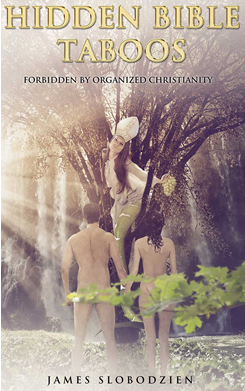 As we step towards the Christmas season and prepare for the Holidays once again, is it  even possible that there could be New Revelations about the ancient story of Jesus that  may have been hidden for centuries by the organized religions of Christianity? Many of us have heard the same story repeated by the same religious leaders year after year to the point where we have stopped questioning any of it. It is time to re-investigate and examine our beliefs.
"What if there was a way to read and really understand the Bible that has been kept hidden for centuries by the professional religious leaders of our mainstream [church]?" Slobodzien asks at the start of the latest edition of his exhaustively researched book. The work began as an essay on the recurrence of the number seven in the Bible (the Seven Deadly Sins, the seven pillars of God's wisdom, and so on), but it has since grown to its present, extremely detailed state, which incorporates everything from the Apocrypha to the apocalypse to Chinese numerology, Mayan rituals and legends of Atlantis. The author relates it all to 21st-century science and society, spotlighting such varied concepts as quantum physics, dark energy, addiction theory, and the Bible's stances on alcohol and sex. His main focus on "forms and numbers" leads him into some very complicated research, which he presents with clarity and infectious enthusiasm, but his ultimate goal is simplicity rather than profusion…….Christian readers will likely find his criticisms of organized religions provocative and his frequent calls to an inner, personal faith, free from the "toxic" perversions of organized religions, reassuring. A spirited revisionist look at Christian doctrine." — Kirkus Review
HIDDEN BIBLE TABOOS FORBIDDEN BY ORGANIZED CHRISTIANITY is an article anthology for anyone willing to open their spiritual minds to the mysteries of God's wisdom. It reveals and documents some disturbing and shocking historical facts that may put a new light on some ancient mythologies, but at the same time it maintains the integrity of the Holy Scriptures. Slobodzien proclaims that, "Jesus came to bring us something new—the New Covenant," adding: "He did not come to bring us another organized religion called Christianity with temples and a priesthood like Judaism."
For a limited time (Monday, November 11, 2013 through Wednesday, December 11, 2013) "Hidden Bible Taboos Forbidden By Organized Christianity," will be available as a free download. Follow this link to download the NEW 7D "Epub" edition revised on 10/24/13: http://www.smashwords.com/books/view/241425 with Code: RE97T
For more information contact: James Slobodzien drslobodzien@gmail.com
Honolulu, HI, November 11, 2013
Author Bio:
James Slobodzien is a Hawaii licensed Clinical Psychologist and Certified Substance Abuse Counselor. Dr. Slobodzien's credentials include a Doctorate of Psychology in Clinical Psychology, a Masters Degree in Counseling Psychology, and a Bachelors Degree in Criminal Justice, and he holds a Doctorate of Ministry Degree in Biblical Counseling. He has over 27 years of public service and mental health experience primarily working in the fields of alcohol/ substance abuse and poly-behavioral addictions in hospital, court and correctional settings. He has also taught graduate level psychology courses as an adjunct professor of Psychology, maintained a private practice as a mental health consultant, and authored four books including: "Christian Psychotherapy and Criminal Rehabilitation," and "Hawaii and Christian Religious Addiction."
More importantly, after being raised as a Catholic in a Polish/ Italian family in Trenton, New Jersey, and while serving in the military in Hawaii, Jim had a "Christian" conversion experience in 1977, and he was led to a family-home Church where he was taught "The Way" to follow Jesus as a life-style apart from any organized religions of Christianity. This unique training and experience of spending time with Jesus in the Family-home Church has guided his study of the Bible for the last 37 years. It has educated and trained him to understand and articulate the differences and similarities of spirituality and religion to identify and treat those who have been and continue to be caught up in the web of religious addiction. This has given Jim the compassion for the unchurched and the victims of spiritual abuse and religious extortion within our present day "Organized Religions of Christianity."
Dr. Slobodzien hopes to inspire others to know, understand, and follow – "THE WAY" or the traditions of the first century Early Church as taught by Jesus and his Apostles revealed in the New Testament Bible. 
Media Kit Available at www.7dimensions.net