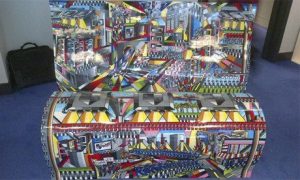 If you're on holiday in London next summer, you could find yourself in the midst of 'Book Benches".  Books About Town is a fundraiser for Britain's National Literacy Trust. They have partnered with Wild In Art, a group that created art displays for the London 2012 Olympic Games to create book benches.
The benches are shaped like open books, and local as well as international artists have been invited to paint the benches with various literary scenes. All the benches and artwork will feature some connection to London.
Visitors will be able to see all the benches by taking a "literary trail" throughout London. The Literacy Trust plans to have 50 to 70 book benches completed by July. The benches will be on display for 10-weeks, and will then be auctioned off, the money raised going to support the literacy trust.
Jonathan Douglas, Director of the National Literacy Trust says: "We are delighted to be launching Books about Town to spread the love of reading across the capital. This is such an exciting opportunity for businesses to be a part of this unique literary attraction set to hit the streets of London next summer."
While these benches are 'very British', it is hoped the idea might catch on in other world cities where literacy, art and the need to raise funds combine into a thing of beauty.
For additional information, sponsorship opportunities, or guidelines on how to start this project in your town, contact Lorna Taylor on 020 7820 6252, lorna.taylor@literacytrust.org.uk or visit www.booksabouttown.co.uk.