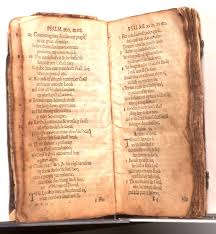 The very first book printed entirely in "British North America", the Bay Psalm Book has just sold at auction for $14.2 million. Printed in Cambridge, MA in 1640, there were only 1700 copies of the book printed, and a mere 11 copies have survived history.
"According to information from the Old South Church in Boston; being the first printed book in the colonies is only part of it's value. It is important because it is the first book published on this soil. So much more than a book, in this treasure is wrapped an act of defiant independence from England, entrepreneurial fortitude, scholarly achievement and religious imagination. The 1640 edition was immediately adopted by nearly every congregation in Massachusetts Bay. The divines who, according to the preface of the work, had "attended Conscience rather than Elegance, fidelity rather than poetry, in translating the Hebrew words into English language," created a work that would literally shape the religious and social life of the Colonies. In the process they also established a publishing house and a center of publishing. Remarkably, as early as 1700, Boston had surpassed both Oxford and Cambridge to become the second most prestigious printer of English-language books, behind only London."
The winning bid was placed by David Rubenstein, who is an avid antiquities buyer and donator. According to Sotheby's David Redden, Mr. Rubenstein plans to loan the book to libraries and offer it for long-term display.
Since most of us don't have millions to bid for such remarkable pieces of history, the Psalms has been digitized. If you would like to read the digital version follow this link.