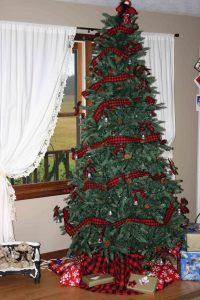 Author Jocie McKade has a few traditions that she and her family share each year, beginning with food!
Hey everyone! I LOVE Christmas, it's my very favorite holiday. I love to decorate, cook and yes, I'm one of those crazy people that love the snow. Christmas Eve is the day we deliver goodies to the neighbors. I've been blessed to live in the boonies, and my neighbors are amazing. They've bulldozed my long drive of snow, mowed the grass when my husband was very ill, and taken my kids off the school bus when I was late from work. So, every year we make goodies to say thank you. I try to change it up a bit. One year I make Rum Bundt Cakes, the next Peanut Butter Fudge, the next a collection of cookies. It's my small way of saying thank you.
On Christmas morning we have a Christmas Tree for Breakfast! It's actually crescent rolls stuffed with my secret sausage mixture and baked on a cookie sheet in the form of a tree, but everyone loves this goodie. Hubby makes a pot of French Vanilla coffee, and then we open presents!
Later in the day the rest of the family comes over for a big dinner. I usually host our dinner every year and I LOVE it. Although, sometimes when I use the family as guinea pigs to try out a new recipe…..well, they get a little hesitant. They call it scary, I call it and adventure!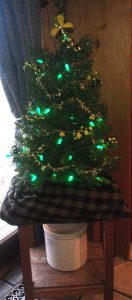 I love to decorate trees and someday I am seriously going to find a job where I can get paid to decorate them. I have hundreds of ideas and just not enough house for them. So, I stick with four – an old fashioned tree with wooden snowmen, a small "Irish" tree (with a name like McKade!!!), my hubby's tool tree, and our big tree where all the gifts go.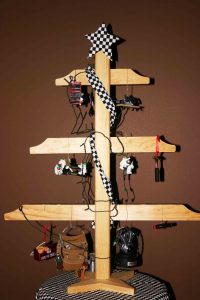 I hope everyone has a wonderful Christmas, Hanukkah or celebration. It is a time of year to reflect, to count your blessings and to share.
Jocie is the author of the humorous mystery High Frequency, the first book in the Between the Lines Series.
Here's a sneak peek:
Two reporters, one con-man and a few good Druids, saving the world.
Lauren Jacobs is a journalist with amazing powers. She can simultaneously suck down a doughnut hole, drink a cup of coffee, add info to her iPad, and shift gears in her car on the Chicago freeway during rush hour. 
A reporter for the prestigious news journal Edition One, Lauren has won a number of excellence awards for journalism. Her byline has made Edition One a digital news sensation, and her fiery exposés draw a huge readership.
Unfortunately, those exposés usually require her to have the ability to run very fast, meet impossible deadlines, and hope the police never, ever find out who her father is – a con man wanted on three continents, four if you count Australia.
A routine stop for morning coffee and doughnut holes gives her the story of her career and will send Chicago's "dirty" city officials to jail, and a fair number of mobsters into hiding.
With Chicago suddenly too hot for his headstrong reporter, her editor, Garrett Modesto, assigns her to a mundane story on crop circles in England during the rainy season. A nice, boring story, until her editor's ex-Marine buddy, who happens to be a crop circle expert, turns up dead in a really ugly way. Lauren learns there just might be more to the crop circles then artwork in a wheat field. The boring story suddenly turns into a harrowing life or death race through England, a Midwest Air Force base, and Washington, D.C.
Enter Derek Rourke, a reporter from the worst of the "yellow" tabloids – The Lens. The crop circles turn out to be evidence of a vibration frequency weapon being tested by a terrorist group, and Derek seems to be trying to "scoop" Lauren on this story of Pulitzer Prize-winning proportions.
Although wrapped in a remarkably good-looking package, with twinkling green eyes, impossibly tantalizing dimples, and a sexy magnetism that drives her crazy, Rourke is the embodiment of politically incorrect and his every chauvinistic statement ignites Lauren's temper.
As bullets rain down, crop circles multiply, earthquakes shake London, and lightning strikes more then twice, they are forced into an uneasy and untrusting partnership.  With help from Lauren's con artist father and a few good Druids, they might just be able to save the world – if they don't kill each other first!
You can read the first chapter by following this link.
About Jocie:
Jocie McKade is an author, scriptwriter, and journalist. She lives in Ohio with her family and Diesel the Wonder Dog. When not writing, she grows ArnoldSwartzaWeeds in her garden, and camps whenever the opportunity presents itself. She is available for signings, real and virtual as long as coffee is available. You can find Jocie online at:
Blog: www.jcmckade.blogspot.com
Facebook: www.facebook.com/jociemckade