The show; The Americans ended up being a real hit last year and it starts up again in Feb. It's set during the Cold War. And HBO has been flirting with a potential show set during the Cold War called The Missionary starring Aaron Paul from Breaking Bad. And ABC announced an 8-part series called The Assets which is set toward the later part of the Cold War. There seems to be a resurgence of interest for this time in history.
Lee Jackson, author of Curse the Moon, gives us a unique perspective of the Cold War Era, Castro's Cuba and the cloak and dagger of that time with his historical thriller.
Lee talks about why he thinks people find this era so interesting and we find out who his character Atcho is based off of! Check out the podcast and share your thoughts on the Cold War!
Popular Books Internet Radio with
COS Radio
on BlogTalkRadio

Click here to download the MP3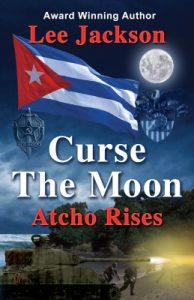 Click to Learn more about CURSE THE MOON