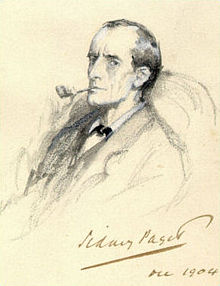 The U.S. District Court of Illinois has ruled that Sherlock Holmes is now part of the public domain, and can be used without charge. The case was brought by Leslie S. Klinger. Klinger asked the court to make a ruling to determine what works of Arthur Conan Doyle, author and creator of Sherlock Holmes were free of copyright and in the public domain.
Klinger, is the editor of In the Company of Sherlock Holmes, a collection of stories inspired by the Sherlock Holmes character. He released a statement on the ruling via the blog, Free Sherlock: "Sherlock Holmes belongs to the world. This ruling clearly establishes that. Whether it's a reimagining in modern dress (like the BBC's Sherlock or CBS-TV's Elementary), vigorous interpretations like the Warner Bros. fine Sherlock Holmes films, or new stories by countless authors inspired by the characters, people want to celebrate Holmes and Watson. Now they can do so without fear of suppression by Conan Doyle's heirs."
"For many years, US motion picture studios, television networks and publishers have accepted without challenge the insupportable position of the Conan Doyle Estate that a paid license was required to create new works based on the pre-1923 Sherlock Holmes stories. We believe that Les Klinger is the first and only creator who refused to pay for a license that he did not need and challenged the position of the Conan Doyle Estate in court. Thanks to his courage, commitment and vision, the ruling of the District Court represents a clear legal victory, not only for Les and his co-editor, Laurie R King, but for every creator who seeks to draw on the canon to create new works." Said Jonathan Kirsch, part of Klinger's legal team
The ruling would cover works written before 1923 and include 46 short stories, and four Holmes novels. Works that were created after 1923 are still owned by the Doyle's estate. This ruling will only apply to public domain issues in the U.S. Doyle's works have been in the public domain in his native U.K. since 2000.