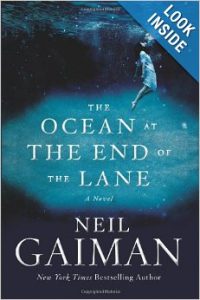 Britain's Specsavers National Book Awards has named Neil Gaiman's fantasy novel, The Ocean at the End of the Lane Book of the Year. Here's more from the Specsavers press release:
Neil Gaiman became the author of Britain's favourite book today, as his contemporary fantasy The Ocean at the End of the Lane was named Specsavers Book of the Year for 2013. Neil was crowned overall victor by the public in a vote comprising of winners from all ten categories from this year's Specsavers National Book Awards.
Gaiman won the public vote by a considerable margin, beating substantial competition from the likes of Malala Yousafzai, Robert Harris, Kate Atkinson and David Walliams to win the highly sought after accolade.
New York Times bestselling author Neil Gaiman was shortlisted in three separate categories as part of the Specsavers National Book Awards, produced by Cactus TV – National Book Tokens Children's Book of the Year for his book Fortunately The Milk, Waterstones UK Author of the Year, and Audible Audiobook of the Year for his book The Ocean at the End of the Lane which won the category, and went forward to the Specsavers Book of the Year public vote.
Neil Gaiman said: "I've never written a book before that was so close to my own heart: a story about memory and magic and the fear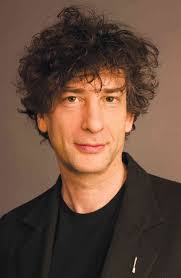 and danger of being a child.  I wasn't sure that anyone else would like it. I'm amazed and thrilled that so many other people have read it, loved it, and made their friends read it too.  Winning a National Book Award was thrilling; discovering that the public have made The Ocean at the End of the Lane their Book of the Year is somewhere out beyond wonderful. Thank you to everyone who voted."
Dame Mary Perkins, Specsavers founder, said: "On behalf of Specsavers I'd like to congratulate Neil on this fantastic award. The competition was tough but to be chosen by member of the public as well as your industry peers truly is a tribute to hard work, dedication and creativity."
Amanda Ross Joint MD of Cactus TV, added: "Neil Gaiman is an incredibly worthy winner, dominating the public vote, but he beat off amazingly stiff competition, comprising not only of new and exciting talent but also exceptionally respected and established authors. Congratulations to all our winners but especially Neil for triumphing overall."
As the overall winner is chosen by readers themselves, the Specsavers Book of the Year is an unsurpassable endorsement of a book's appeal. Previous winners include Fifty Shades of Grey by E.L. James (2012) and Caitlin Moran's How To Be A Woman (2011).
The Specsavers National Book Awards were hosted by TV's Lorraine Kelly and Dame Mary Perkins at the Mandarin Oriental on Wednesday 11 December. The standout event in the literary calendar, the awards are unique in that they acknowledge critical and commercial success.