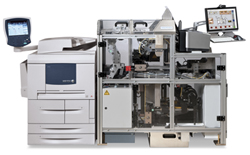 Starting slowly with 'frothy' test markets the Print on Demand Espresso Book Machine is about to come to a bookstore or retail outlet near you. Over the last two years publishers have joined the program. HarperCollins, Penguin, Kensington and Ellora's Cave will all have many of their titles available on the print on demand machine.
If you're a reader that prefers print books, or wish to give one as a gift to a reader who does, you can simply drop into Books A Million, college bookstores and even your local public library, hit a few buttons and have a book in hand when you leave. If the book is only available as an eTitle this solves the problem. If you just want to print a family cookbook, or genealogy tree for a few family members, the EBM is perfect.
"The EBM is a cutting-edge publishing technology that offers patrons instant access to more than seven million titles printed in any language, and allows local authors, organizations and entrepreneurs to self-publish their work on-site."
 
The details from EBM:
The EBM is the only digital-to-print at retail solution on the market. Within minutes, the EBM can produce a bookstore quality paperback with color cover, in any standard trim size, at point of sale. The content is fed to the machine via EspressNet, On Demand
Books' growing digital network of titles. These titles are available through partnerships with Google, Lightning Source, HarperCollins, Hachette, Penguin, Macmillan, McGraw Hill, and others, and includes content from publishers like Random House, W.W.
Norton, and Simon & Schuster.
Like iTunes for books, EspressNet retrieves, encrypts, transmits and catalogues books from a multitude of English and foreign language content providers (including public domain, in copyright, and self-published). Library patrons can also use the EBM to print
their own work, whether they have a private project or want to self-publish their book. They can print as many or as few copies as they need at any given time, and can even offer their books for sale through the EspressNet database and make them available at
EBM locations around the world. In this way, the EBM technology offers libraries the opportunity to become community self-publishing centers, providing a new distribution platform for self-published authors. The EBM also improves efficiency and sustainability by eliminating shipping, returns, and the pulping of unwanted books.
For additional information and locations of EBM machines, follow this link to the Espresso Book Machine website.