May marks the 10th Anniversary of Brenda Novak's Online Auction for Diabetes Research.  It's a month long extravaganza where you can bid on anything from an exotic vacation, to meeting a celebrity, to lunch with an author, or even getting a brand new book and everything in between.
But this year Brenda's taken it one step further by offering a box set of books from award winning authors.  According to Bella Andre, "I am beyond excited to let all of you know about an amazing anthology that I'm a part of in which all proceeds go to diabetes research! A SWEET LIFE has stories by 14 amazing, bestselling contemporary romance writers — Susan Mallery, Barbara Freethy Books, Heather Graham, Julia Kent, Brenda Novak, Carly Phillips (Official), Jennifer Probst, RaeAnne Thayne, Rachel Van Dyken, Susan Wiggs, Lauren Hawkeye, Jane Porter, Steena Holmes & me — and it's only $2.99 for a limited time!
The release date is May 1st, but you can pre-order it now from:
Amazon Kindle ~Apple iBooks ~ "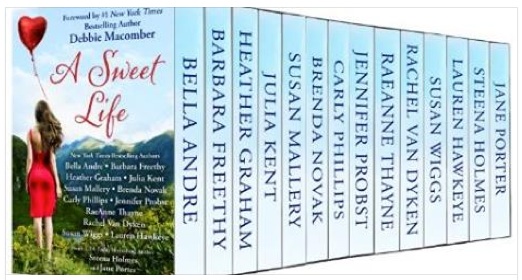 This is a win-win for everyone.  Readers get great books, authors get discovered and money pours into research needed for this deadly disease.
You can still donate something by emailing Anna at tinkabela776@gmail.com.  You can bid on items starting May 1st, but there's already some items posted here, if you want to take a look.
Now, leave a comment on what you'd like to win from the auction and I'll pick one lucky commenter who will receive this set of terrific reads.