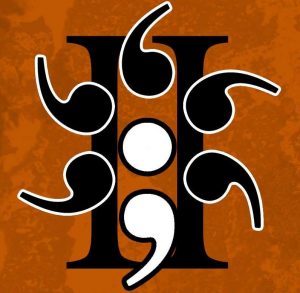 A semi-colon is the probably the single most misunderstood, mis-used punctuation in the English language. "The semicolon is used when a sentence could have ended, but didn't", and that definition is being taken literally by "Project Semicolon" for the prevention of suicide.
You might see a small tattoo on a wrist, or a large one on an arm of a semicolon; they are wearing it as a badge of courage graphically proclaiming that their story isn't over yet.
"The movement is for anyone who has ever self-harmed, has a personality disorder, or has tried to commit suicide. The semicolon is a sign of hope. Your sentence is not over yet. …If you have ever harmed yourself, attempted suicide, or just want to support the cause, put a semicolon on your wrist or wherever you feel would mean the most. Every time you see it, think of something that makes life worth living."
You can find personal stories, encouragement, and photos of those wearing semicolon ink. It is a reminder that those walking through dark places in their lives are not alone.
The founders of the website are planning a special day and are inviting everyone to share in it. "On April 16, 2014, everyone who self-harms, is suicidal, depressed, has anxiety, is unhappy, going through a broken heart, just lost a loved one, etc., draw a semicolon on your wrist. A semicolon represents a sentence the author could've ended, but chose not to. The author is you and the sentence is your life."
The Semicolon Movement was started almost a year ago, and is slowly spreading across social media. You can find more information by following this link and you can follow the project on Facebook.
The semicolon is a reminder for "every time you see it think of something that makes life worth living."