The Reader Appreciation Luncheon this year in Milwaukee exceeded all my expectations.  Record number of readers and authors joined in a weekend of celebration of books.  I've been overwhelmed by the response from the readers and I thought I'd share some of the emails I've received.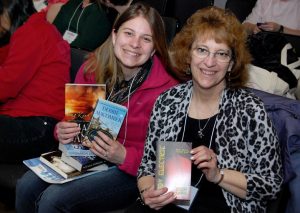 I just wanted to say thank you for the lovely time yesterday.  It was divine! ~ Jan
I didn't get a chance to thank you personally, but I hope this email attempts to convey my deep appreciation for the wonderful event you organized this weekend. Many, many thanks to you and your team of volunteers for making the 3rd Annual Barbara Vey Reader Appreciation Luncheon an unmistakable success.
I was very blessed to spend the day at Marjorie Liu's table, but it was a thrill to be able to discover more lovely authors like Gena Showalter and Jeannie Lin! I hope this event continues for as long as it can. It is truly a wonderful testament of the power of the written word to draw people together. ~ Peter
This was a fabulous event and I am so grateful I found it on klout.  I'm even more grateful I was able to attend. – Patti
Your Saturday event was awesome! One of the best I have attended. Thanks for all of your hard work putting this great event – for a wonderful cause- together. I will most definitely be back! ~ Teri
Just a quick thank you for an amazing experience at the reader luncheon on Saturday, this was my first experience and I loved it, so much fun! Can't wait for next year! ~ Heather Ann
I came with a co-worker and had such a fun time, now my whole department wants to come next year! ~ Sarah
This is just a sampling, but you get the idea.  Readers love to meet authors they love and meet new ones.  It's such a simple idea that has far reaching implications.  The readers were given a Memory Book (sponsored by Nancy Naigle and Tonya Kappes).  It contained pictures and bios of the authors along with the genres they wrote in.  Many readers walked around and got them signed by the authors.  Not only are they terrific keepsakes, they are also a reference for readers when they are looking for their next book to read.  And we all know what happens once a reader reads a book they love…they pass it on.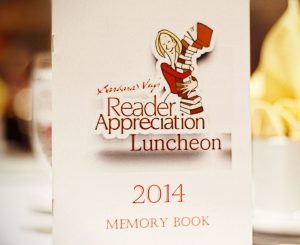 So, I'm thrilled for all those who attended and hope that the rest of you get an opportunity to  attend a reader event in your area.
Have you attended a Reader Event?  Would you want to?  Who would you like to meet?
Bottom Line:
A book is like a garden carried in the pocket. ~Chinese Proverb