Do Alligators really live in the sewers of New York? Does gum really stay in your stomach forever? Does your heart really stop when you sneeze? Myths Busted covers these popular myths (or are they?) and more!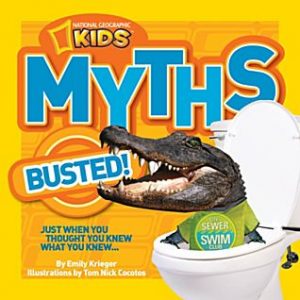 About the Author:
Emily is a Seattle-based writer, editor, and fact-checker specializing in children's content and science.
She's investigated Bigfoot and George Washington's dentures for the National Geographic Kids Myths Busted! series; pondered alien and ancient life for Science News for Students; amassed amazing tidbits about bugs, birds, and brains for 5,000 Awesome Facts (About Everything!); and let her mind unwind while writing NG Kids Funny Fill-In books.
She's also studied Hendra and SARS outbreaks for David Quammen's award-winning book Spillover and fact-checked the capital of Kyrgyzstan and other countries for the National Geographic Bee.
Her other endeavors have included fact-checking feature articles and departments for National Geographic magazine and editing Science News.
About National Geographic:
The National Geographic Society has been inspiring people to care about the planet since 1888. It is one of the largest nonprofit scientific and educational institutions in the world. Its interests include geography, archaeology and natural science, and the promotion of environmental and historical conservation.