Stolen Spirit by Pamela Moran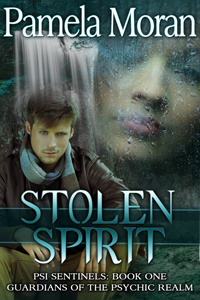 SYNOPSIS
Hearing his dead ex-girlfriend's voice in an empty room is enough to make a man question his sanity. Worse is when that ex insists she shouldn't have died. Broken cop Jake Carrigan has no interest in delving into a past full of heartache and regrets. But he can't deny she still matters, even if she's simply a voice in his head.
Hannah Dixon is having a hard time believing she's dead. How can she be when she feels so much inside? She can see Jake, can talk to him, but she can't touch him. And right now, touching Jake is all she wants.
Jake's probe into Hannah's death stirs up a sinister psychic link, something dark that will stop at nothing to keep its secrets. To protect her own heart, Hannah left Jake once. Can she leave him again to protect his life?
EXCERPT
PSI Sentinels: Guardians of the Psychic World
Extraordinary senses in a world full of danger.
Protectors and hunters, PSI agents lay their abilities, sometimes their lives, on the line.
They defend and shield unwary victims against the twisted underside of a
psychic society bent on exploiting an unsuspecting, mundane world.
Chapter One
"Dammit." Jake Carrigan slouched at his wooden kitchen table and ran the edge of his thumb along the rim of a shot glass full of whiskey. "You should be here, Hannah. With me."
Heavy with the scent of recent rain, a stiff spring morning breeze blew in through his open kitchen door. The metal screen rattled against its frame. Lace curtains, ones Hannah had picked out a year ago, fluttered above his kitchen sink.
He twisted the shot glass between his thumb and forefinger and studied the play of amber shadows swirling though the liquid.
One drink, one quick shot.
"Jake." Soft and utterly feminine, his name breathed through the cool air to slip over his skin and down his spine.
Already tight muscles at the back of his neck clenched. He took a wary glance around the empty room.
Shit. Why the hell was he already hearing Hannah's voice?
He hadn't tasted the booze. Not yet. Not a drink in months. On the table in front of him, only a single shot low, sat the bottle of whiskey.
Jake pushed away from the table, the legs of his chair scrapping over the scarred, hard wood floor. He stood and shoved both hands through his hair. Hair desperately in need of a haircut.
Close to four months since he'd had a drink.
New Year's Day resolutions and all that crap. Promises to his worried sister, promises to himself.
A promise he was about to break.
Over six months since he'd discovered Hannah had died. Alone. Without him. He hadn't even known she was sick.
She didn't tell me, didn't let me know.
With both hands splayed at his waist, he glared at the shot glass.
She could have reached him, if she'd wanted. If she'd bothered to try.
He'd been puttering around the Caribbean, soaking up the sun, telling himself he was better off without her. Until he convinced himself all she wanted was a ring, marriage.
Commitment.
Something he wasn't too well versed in.
The blue velvet box holding the platinum diamond ring he'd bought in the islands sat square on the table next to the whiskey bottle.
Mocking him.
Commitments and promises.
He rubbed at the knot centered between his neck and shoulder blades. He'd gone on a bender after … well, after. Hearing her haunting voice, then, had come close to driving him insane.
Hannah's voice.
Deep and throaty.
Sexy as hell.
God, he missed her voice.
"Are you going to stare at that or are you going to actually drink it?"
Jake spun around.
Shit. Shit. Shit.
There was no one there.
He scrubbed a hand over his mouth, along the stubble of his jaw. Why the hell was he doing this to himself now? Hannah sounded as if she stood right behind him. As if she looked over his shoulder, her sarcastic words a mocking tease across his skin.
During his drunken bender days he'd sworn she'd done just that. But like today, there'd never been anyone there.
Hannah was gone.
Dead.
Over seven months ago.
Seven and three quarters, if he was counting.
God help him, he was counting.
            "Jake, come on." Weariness lined that sexy voice. Lined it and slithered to coil tight in his gut. "Haven't you spent enough time drowning in pity?"
His lip curled over the growl rising in his throat. He spun back to the whiskey, downed the single shot of throat burning liquid and slammed the shot glass on the table. The sharp echo of glass on wood reverberated through the room.
"Happy birthday, Hannah." He snatched the whiskey bottle on his way to the back door. "Now leave me the hell alone."
AUTHOR BIO
Whether painting, out on a photo shoot or writing, Pam has always had a bend toward the creative side of life. Her favorite is when she can combine any of those with travel. Places get into her blood and she loves to explore the possibilities, always with characters and a story in mind.
An astrologer for most of her adult life, Pam has been known to see auras & the occasional ghost. Considering she lives in a haunted house in the mountains of southern California, this keeps life interesting.
Sneak Peeks are our way of helping readers find new books and authors and get previews. Please share and/or comment! Thank you!