Naked for Her Two Masters by Berengaria Brown is hot with BDSM and erotica. Recommended for 18 and older.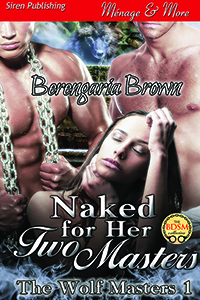 SYNOPSIS
Andorra Yasbit's father took off with a blonde bimbo and her stepmother closed their apartment. So Andorra hikes up a mountain and discovers a wonderful hot spring. The only problem is the werewolf who owns it is Master Kingston, who's used to being pursued by gold digging women. And he has an equally Dominant best friend, Master Raleigh. They don't believe she's arrived by accident.
The two men take Andorra to the dungeon, but instead of being scared Andorra revels in the punishment and orgasms. The men can't find any evidence Andorra has been lying to them, but Master Kingston can't bring himself to trust her either. And the more time they spend together, the stronger the attraction between the three of them grows. Kingston is determined to break her and prove she's deceitful. Raleigh wants to believe her but owes his allegiance to his Alpha. What can Andorra do to demonstrate she's telling the truth?
Buy Link: http://www.bookstrand.com/naked-for-her-two-masters
EXCERPT
Fury raced through Kingston's veins as he stared at the strange woman in his hot spring. Were the fucking gold diggers following him to the mountain now? Where the fucking hell had she come from? He couldn't imagine a woman hiking up the mountain. It'd take days and she'd need a support crew with a tent and food and all her equipment. No, she must have had a helicopter bring her and the pilot had landed her at the wrong spring. For a moment he wondered how long she'd been lying there waiting for him to find her, then shrugged it off. Too bad. She was about to have a reality check. It was a good three miles over very rough rock back to the pack's home. That should teach her not to act precipitously in the future.
He stood on an overhanging rock and roared at the interloper, "What the fucking hell are you doing in my hot spring?"
He felt a momentary flash of guilt when she startled so badly she sank beneath the water and came up coughing and splashing.
"I'm sorry. I didn't realize this was private property." He watched her scramble out of the water, keeping her back to him. Did she really think that acting all shy and hiding her nakedness when she'd come here deliberately to entice him would work? She couldn't possibly be that stupid. Then he remembered some of the other women who'd pursued him. Yes, she could be that dumb. He watched her open her backpack and pull out a towel, rub her body briskly then climb into jeans, a T-shirt, and a sweater. The clothes looked well-worn. He'd expected her to wear something nicer, but perhaps she intended to keep up the innocent act.
He also noticed she dried her feet carefully—far more carefully than she'd dried any other part of her body—before putting on clean socks. That was the way genuine hikers behaved. Feet were the most important part of a hiker's equipment and it made good sense to treat them properly. He watched her push the dirty clothes that had been left on the ground beside her boots into the backpack, and then shrug it over her shoulders. Like her clothing, the backpack was far from new. Likely she'd bought it secondhand or from a thrift store. She had a bedding roll pushed through the straps of the backpack.
She kept her back to him and walked up the hill at the side of the hot spring, heading west.
"Where are you going?" he asked.
"Back to the river. Or is that still on your land? May I stay at the river tonight please?"
"Why?" He couldn't understand why she hadn't asked to go to his home. What devious plan was in her brain?
"I don't have any food left and if I set my net now I might catch a fish for breakfast."
"Why don't you want to come to my house?"
"You told me to get off your land."
"No I didn't. I asked you what you were doing in my pool. A question you haven't answered."
While they'd been talking he'd walked around the rim of the hot spring so he was still above her but much closer to her now. Her brown eyes were a little bit sunken in her face and she looked tired. The jeans she'd put in her backpack had been very dirty, as if she'd been wearing them for a while. He wondered if she really had climbed the mountain, or at least come quite a distance, and if she had run out of food or if that was just a ploy to get his sympathy. Some women were incredibly manipulative, especially when they hoped to catch a rich husband.
She turned to face him fully. "The short answer is soaking and resting. The long answer is I came to the mountains for peace and a break. I saw the steam rising from your pool and I thought it was going to be a volcano so I wanted to look at it."
"There are no volcanoes in these mountains."
"I didn't know that. I didn't know there were hot springs here either, though. Listen, is it all right if I stay by the river? I need to leave now to get there before dark and set my net."
"Follow me to my house instead. I'll feed you." He was probably being naïve letting her come, but if she genuinely had no food he couldn't leave her out on the mountain.
 AUTHOR BIO
Berengaria is a multi-published author of erotic romance: contemporary, paranormal (magic, ghosts,
vampires, fairies, dragons, and werewolves), futuristic, medieval, and Regency-set historical. She loves
to read all different kinds of romance so that is what she writes: one man/one woman; two women; two
men; two men/one woman; three men, two women/one man, three men/one woman…. Whatever the
characters need for their very hot happily-ever-after, Berengaria makes sure they get it.
http://berengariasblog.blogspot.com/