Are You Confident Today? by Kris Yankee and Marian Nelson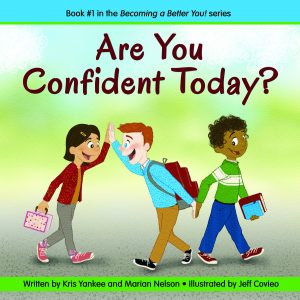 SYNOPSIS
What does a confident person look like? Smart? Happy? Talkative? Self-assured? Take a look in the mirror because a confident person is YOU! Are You Confident Today? presents situations that will help build and reinforce confidence in all readers. Are You Confident Today? is part of the Becoming a Better You! Series, which strives to highlight character traits that help readers reach their potential and help make a positive impact in the world.
EXCERPT
Every day is a new day. Today is about being confident.
When you're confident, you believe in yourself and what you can do.
Try this!
Each day when you wake up,
say out loud, "I'm ready to do my best."
You can make your own breakfast.
Learn how to crack an egg into a frying pan.
In fact, you can make breakfast for your brother, too.
Wow, that's a great start to your day.
AUTHOR BIO
Kris Yankee:
Kris Yankee is a freelance editor, writer, wife, and mom. Kris feels blessed to have been able to be a part of this new series, as she believes that the values presented are those that she hopes to instill in her own children. She is an award-winning author of Cracking the Code: Spreading Rumors and Tommy Starts Something Big: Giving Cuddles with Kindness co-written with Chuck Gaidica. For more informa­tion about Kris, please visit facebook.com/BooksbyKrisYankee.
http://www.krisyankee.com/
Marian Nelson:
For the last nine years, Marian Nelson has been the publisher for Nelson Publishing & Mar­keting. She is happy to launch this new series of books called Becoming a Better You! Helping people grow to become better individuals has been her life passion. Formerly an educator for nearly twenty years, Marian keeps her focus on the children of the world, actively pursuing concepts of building healthy character. She continues to reach out to as many as possible in her talks and books. It is her hope that people will focus on learning and growing from the concepts presented in this book series and to work on self-improvement.
Sneak Peeks are our way of helping readers find new books and authors and get previews. Please share and/or comment! Thank you!