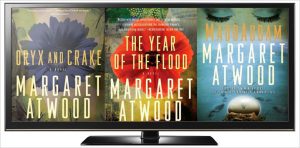 By: Natalie Zutter
Good news: Margaret Atwood's work is finally coming to television. Bad news: It's not The Handmaid's Tale. Good news: It's her next best series—the MaddAddam trilogy! Better yet, Darren Aronofsky is the one adapting Atwood's speculative fiction series for HBO. I love that I got to type all those words in the same sentence.
The MadAddam trilogy concluded last fall with the titular MaddAddam (one of our best sci-fi and fantasy books of 2013), but most readers probably know the series by its first book, Oryx and Crake. I remember reading it in a freshman seminar on speculative fiction; I was simultaneously dazed and horrified by this world where corporations like CorpSeCorps dictate your daily life, and kids glibly hunt down endangered animals in the online game Extinctathon while genetically modified creatures run amok through the increasingly-polarized Compounds and pleeblands.
That's all the "before." The majority of the trilogy takes place after the titular Crake brutally brings about a new world order, and details how the remaining humans reform society in the wake of (to name the second book) The Year of the Flood. In fact, it's actually perfect that this might be Aronofsky's next project after Noah.

Of course, MaddAddam hasn't yet been greenlit; it's early days, but exciting ones. In terms of seeing a successful filmmaker try his hand at the small screen and watching more SFF classics get the TV treatment… it's great news.
Reprinted with permission from Bookish.com