The race is on to stop a madman bent on unleashing the ancient plagues of Egypt against the modern world. Buenos Aires. Paris. West Point. Only Army Chaplain Jaime Richards, along with the mysterious Sword 23, can stop the catastrophe. Death of the firstborn…72 hours, and counting. Find out more at EdenThrillers.com and SharonLinnea.com. Plagues of Eden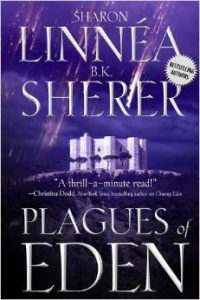 About the Authors:
SHARON LINNEA
Sharon Linnéa is an award-winning biographer, novelist, and one of the top inspiration journalists in the country.

She is pleased to announce the publication of These Violent Delights, the first of the Movie Murder mysteries, in the Spring of 2012, and of the new thriller in the Eden series during the Spring of 2014.

The other big news is that the first three Eden Thrillers, Chasing Eden, Beyond Eden ,and Treasure of Eden were published in brand new editions–both trade paper and as ebooks–in June 2011, and have now sold more than half a million copies.

Sharon's extensive background as a book and magazine editor has led her into many interesting venues, where she has gotten to interview and work with cultural historians, psychologists, film and recording artists, and Holocaust survivors. She spent five years studying Hawaiian history for her biography Princess Ka'iulani: Hope of a Nation, Heart of a People, (winner of the Carter G. Woodson Award) and another five years interviewing modern Hawaiian islanders from all walks of life for Chicken Soup from the Soul of Hawai'i.

She also spent three years interviewing co-workers of Raoul Wallenberg, the young Swede who saved 100,000 Jews in Hungary at the end of World War II.

She is currently promoting the Eden Thrillers, preparing for the publication of her new series of murder mysteries, and working on a new series of nonfiction books. 
B.K. SHERER
B.K. Sherer
was born in Lima, Ohio and grew up in Springfield, Missouri.  While living in Springfield she graduated from Glendale High School and earned a Bachelor of Science degree from Southwest Missouri State University.  Her civilian schooling continued with a Master of Divinity degree from Princeton Theological Seminary and a Doctorate in Education from Oklahoma State University.
In 1984, while serving as Associate Pastor for First Presbyterian Church in Stillwater, Oklahoma, she was commissioned as a chaplain in the Army Reserves.
In 1992, Chaplain Sherer entered active duty and has since completed numerous assignments throughout the United States, Korea, Germany, Iraq, Kuwait and Somalia.
It is undoubtedly her extensive travels that has supplied Sherer with the necessary knowledge and experience to write such an authentic series such as the Eden Thrillers.
She is an ordained Presbyterian minister and member of Cimarron Presbytery, has published numerous articles and is, of course, co-author of the Eden Thrillers series, which was released by Arundel Publishing in the spring of 2011. The three books in the series, Chasing Eden, Beyond Eden and Treasure of Eden, are available in both eBook and Paperback editions.
She currently serves on active duty in the US Army and resides in South Carolina.