Gated by Matt Drabble
SYNOPSIS
"Matt Drabble is a name that will one day be as widely recognized as Stephen King & Dean Koontz" – READERS FAVORITE
From the award winning & bestselling author of "Asylum – 13 Tales of Terror", "After Darkness Falls 1 & 2" & "Abra-Cadaver"
"Gated" is an UK Horror Chart #4 bestseller

"This book is a page turner. An absolute thriller that keeps the reader engaged to the very last page." – I Read a book once.com

"I cannot praise this book enough. It is one of those books that stays with you long after you have read it the imagery is that powerful." – Soozy's Horror Page

"The description in this book is amazing, it's like he has pulled it out of his head and right into the book. I'd definitely recommend reading it." – Rebbie Reviews

"An eerie and sinister plot that draws you in from the start. A book I can recommend to all readers for the love of Horror and thrillers." – Lynelle Clark

"Surprises are in store, and good ones. Think along the sadistic lines of John Saul and VC Andrews. Not everyone is getting out of this story alive." – examiner.com


Michael and Emily are a happy and contented English couple, a writer and a school teacher. Their lives are complete when Emily falls pregnant, however their dreams are shattered one cold winter night by a car accident that robs them of their happiness.
To overcome their loss they up stick and move to Eden Gardens, a US gated community that offers "Heaven on Earth and Twice as Nice". The people are warm and friendly and welcome them with open arms. The town is a beautiful throwback to a bygone age, where the sun always shines and the sky's always blue.
As they settle into their new perfect lives, the circle is complete when Emily falls pregnant. The town is perfect, the weather is perfect and their lives are perfect. But are the stares from their neighbours a little too intense, is the town a little too interested in their happy news, and is Eden all that it seems.

They are about to find out that paradise comes at a cost, and when you sign a lease, you should always check the fine print.
EXCEPRT
CHAPTER  ONE
They ran in the dark; the tree branches whipping viciously at their faces. Mother Nature apparently choosing sides. They stumbled and slipped in the mud as the moonlight barely permeated the hanging foliage cover, making their escape all the more difficult and unlikely. They grasped hands in desperation, their palms sweaty with exertion and cold with terror. The man dragged the woman painfully in fear as she lagged dangerously; her breath hitched and struggled as she panted. Panic rose and scaled the fences, rendering her conscious mind useless; all thoughts now were primal and frantic.
The woodland was heavy and unforgiving away from the established paths. The trees were thick and lush, stretching as far as the eye could see, dominating the horizon. The man cared little for what lay in front of them, only for what they were running from. The ground became uneven as they thrashed and crashed through the greenery. The slope became more pronounced as they staggered downwards. The man's feet fought for purchase, and he let go of her hand as he cart-wheeled spinning arms in the air for balance. Suddenly she slipped behind him, her stability lost. He felt her slender weight as it landed, driving both of them forward. He grabbed frantically for a branch to catch them, his hands slapped against barked wood but missed, and gravity had her way. Suddenly they were airborne as the ground gave way. The slope was steep and unforgiving and they fell and rolled as one. Arms were interlocked as they crashed through the trees and shrubs, the wet mud lubricating their mad descent. The man winced more at the noise they were creating than the pain they were causing. The fall seemed eternal, their heads spun as they crashed ever downwards, spinning out of control.
Abruptly the wild ride ended, the man crawled around in the darkness looking for her. His hands scrambled hysterically, looking for her softness amidst the sweet smelling pine. His face was black with mud and filth, his clothes were ripped and torn and a cursory check to his face found sticky wetness from several head wounds. He hoped and prayed that head wounds, although notoriously bloody, were not always serious. He pulled himself along the muddy ground looking for his wife – the silence was deafening- and there were no soft moans or struggling pants. He dragged himself around the meager search area; his left leg hung loose and useless behind him as he crawled. The broken bone shards rubbed agonizingly together and he gritted his teeth against the pain. His hands suddenly snagged on her, several feet away from his starting point. Her cardigan was shredded by the fall; the caressing fabric felt familiar through his fingers. The top had been a birthday present two weeks ago, and what felt like a hundred lifetimes ago. He pulled himself towards her, leaving bloody trails in the wet mud. He heaved himself up and felt for her face in the dark. His fingers traced lovingly over the face that he had kissed a million times before. He found her throat and checked with a trembling hand for a pulse, but it was silent. Her head rolled grotesquely loose on her neck; the break was obvious and fatal. Off in the distance he heard them coming. They were not subtle or stealthy and they charged through the woodland like a herd of rampaging elephants. Their desperation had abandoned all sense of reason; the search party was badly organised and running purely on adrenaline.
Powerful flashlights suddenly pierced the gloom above him to the top of the slope as the first pursuers reached his fall from grace. Loud shouts of excitement mingled with relief rang out to whoops and hollers as they celebrated the successful hunt. He dragged himself to her; he gently pulled her hand over his shoulder in one last embrace and could do nothing but wait.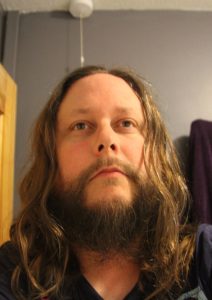 AUTHOR BIO
Born in Bath, England in 1974, a self-professed "funny onion", equal parts sport loving jock and comic book geek.
A few years ago after a serious back injury I was diagnosed with a degenerative condition that left me unable to work full-time. Also due to the austerity measures also meant that I did not qualify for any disability benefits. So I despite having zero in the way of a literary educational background I started to teach  myself to write. Hopefully as each book passes I am getting better and touch  wood, sales seem to indicate that.
"GATED" was a #4 UK Horror Chart best seller.
Websites:
website: www.mattdrabble.com
Twitter:  MattDrabble01
Facebook: www.facebook.com/matt.drabble.3
Amazon Author Page: www.amazon.com/MATT-DRABBLE/e/B0089NFG8Q
Book trailer:
Gated: http://www.youtube.com/watch?v=a4eX7BTUR7w
Sneak Peeks are our way of helping readers find new books and authors and get previews. Please share and/or comment! Thank you!