April Showers bring May Flowers by Lathish Shankar
SYNOPSIS
The story is the diary entry of a ten-year-old school girl written in Indian slang. The story describes a summer vacation that Ashitha, a ten-year-old girl had with her friends. Their good time, friendship, love and affection are described in the story. Once a new neighbour called Abinav, arrives. Ashitha became very close with that boy, and when he had to leave after the summer vacation, she feels as if something is lost.
EXCERPT
CHAPTER 1
The bus arrived at half past three; the lady climbed on it, found a comfortable seat, and settled in by pulling out her diary.  She leaned back to the seat, opened the pages and started reading.
11th April 1987 Saturday.
Dear Sophie,
My name is Ashitha. I am a 10 year old girl, studying in fifth grade in Mount Carmel School.  I have a close friend named Sanjana, my classmate, and Sreejith is the name of her younger brother. We stay here, in the temporarily furnished quarters of the marvelous "Lions Park" near to the beach road.
Gorgeous Mayflower trees to the both sides of the road stands stunningly beautiful, adding awesome look to this place. Now it is summer vacation, and we are all enjoying our free time. Yesterday we just received our exam results of this academic year, and we all have passed with distinction. All congratulated me, except my mother, who is probably the only person in this world to never be satisfied with my marks.
Did you get bored just by reading the first chapter of my diary? I guess not!  So, let me continue writing…
Just now I had a small fight with Sanjana, and so she is very angry with me.  Do you know how silly the topic of our conflict was? I couldn't even remember what it was about, but I know it is important to her.  I told her something that she didn't like, and then she went straight to her room without uttering a single word.
I don't want to explain to you about the quarrel, because you may think how silly I am!  But I know, it is not easy for her to forget about this quarrel. Wait; let me try to solve this issue. Anyways, I love this part of her, because it makes her unique and different from all.
It is around two o' clock now, and I have just finished my lunch. Without making any noise I climb the staircase and go straight to her room. I see her looking outside through the window, watching the boys play cricket.
What if I go near her, pull her ponytail, and hug her from behind as surprise? How would she react to me if I did so? Maybe she will stare at me angrily for a few seconds! Ha-ha! That would be really funny!
I slowly walk towards her with the mild footsteps of my cute kitten, Jennifer.
"Sanjana…" suddenly the voice that came from outside, split my idea completely. These boys will never allow me to plan or do something!
One of the boys looked up and asked, "Sanjana, why don't you come and join us to play?"
"Sorry, Brother… I am very tired, not now," Sanjana said louder so that the boy should hear.
"What about that red chili, standing beside you?" He pointed his fingers to me.
I didn't like that nick name they have been calling me always. They say I get angry soon, and so they had given me that nick name- red chili. I have a good name, Ashitha, and they can call me by that name. If the one who called was standing in front of me, I would have slapped him right away on his cute cheeks. My fingers should have left red marks on his cute white cheeks and all the people around would have seen and laughed at him! Only then he will understand other people's feelings.
Moreover, I would like to say that I hate cricket. I have read somewhere, that cricket means eleven fools are playing but eleven thousand fools are watching. Yes, I think it is true. Every time those boys are crazy about cricket. Also, the schools are closed now for the summer vacation. But I don't think all the twenty four hours of a day they have to spend for cricket! Why can't they spend their time in doing some creative things? Why can't they come and chat with us for a while? I really don't know whom I should tell this to. However, there is no one here to listen to me. So, forget it.
"Sanjana…" I called her a bit louder with a nice giggle in my face. She pretended not to know, and never turned back.
"Hey Sanjana, come on… what's wrong with you my dear..?" I held her in my arms, turned her towards me, and questioned her. "You are my cute little Sanju baby," I said.
"Go ya once! … Don't speak a word to me," She pretended to be angry. Oh God!
"Sanju, you look so pretty when you get angry. Yes, seriously!" I said, looking at her face for some time. I wished if she could give me a smile.
"Stupid! How dare you break the window panes, you scoundrels…?" The voice that came from outside made us frightened, and at once we were taken aback by that voice which off course hit my eardrum so hard.
"Oh! My goodness! This summer vacation is indeed a headache to me. I can't bear with these children…" it was the neighbor aunt who screamed with her utmost voice when the boy named Sreejith, the batsman had hit a six, and the ball went straight through a bedroom window and broke the window panes. The breaking sound was pretty loud to hear and it was moreover humorous when I saw the faces of those boys changing gradually.
Sanjana who was seeing all these, burst herself into laughter especially when she saw her brother Sreejith running, chased by the neighbor aunt with a big cane. Even I couldn't control my laughter. You know, my neighbor aunt, she is a very fat lady. Just imagine the scene how funny it would be when she runs! My cute little cat Jennifer looked at us and meowed.  You know, my Jennifer is a tiny grey cat with big eyes and pointed ears.  I think now she might have remembered Tom and Jerry cartoon that we used to watch all the time.
"Ha-ha… look there ya Ashitha, did you see?" Sanjana turned towards me and asked.
Thank God! I am glad that she spoke to me. Although the conflict was for a short period of time, it had taken away much of my happiness.
Alright Sophie, I was telling you all regarding the first day of our vacation; Off course we are planning the next glorious days of ours to be the remarkable ones… As on now, we are just enjoying our holidays and for sure, I will get back to you sooner. I have lots to tell.
I guess, that's it, this is Ashitha signing off. Good night… Have wonderful dreams…
The Lady closed the diary. She could imagine a wide range of children's play, quarrel, love and affection, friendship and with all the wonderful pictures in her mind; she closed her eyes to sleep.
---
CHAPTER 2
17th April 1987 Friday.
Hello Sophie, I am doing fine.  I wanted to tell you that I have got a new friend. I liked his character, and I hoped he would be with us, this entire summer vacation. Alright, let me tell you in detail.
Today morning I woke up very early.  I came out from my bedroom and went down the stairs.  I expected no one to be awake, but I could see my friend's group running and playing underneath the Mayflower trees, situated on both sides of the main road that passes just in front of our house.
Mum had asked me to water the plants, but I think my younger brother Sachin could do that for her. But why does Mummy never ask him to do any work? Am I the only child for her? Oh my goodness! See that stupid fellow! He is standing there to pass urine facing towards those plants which are Mamma's favorites. Unfortunately my Mamma is not seeing this. But she will see each and everything what I do. That's the beauty of it!
"You shameless creature, what nonsense are you doing here, man?" I was very angry with Sachin.
"Why?" he turned towards me after putting the zip of his trousers and looked at me as if nothing has happened. "This is a common act.  My Science teacher told…"
"To pee here?"
"No, she told we shouldn't suppress any urge for nature's call,"
Now I really got wild. With the same pipe that I was watering the plants, I made him wet from his top to bottom. Stupid boy! He deserves that. "You want to have fun with me, right?"
"I will complain to mummy. You are going to have a tough time, for sure!"
Suddenly we heard the ringing sound of a bicycle's bell, and turned to see who it was.  Suddenly something fell on to my face, oh God! it is today's newspaper.  That man doesn't have sense at all, always in a hurry.  At least he should have seen around if anybody is there, before throwing the newspaper.
Ha… By the way, why should I read the newspaper today when there is no school?  I used to read it for practice only when I will have to read the headlines in the school assembly.
I was bored of watering the plants for such a long time. Really boring, and… by the way, where did this boy go?  I turned back, but I saw a new handsome face in front of our next room, which is numbered thirty-six.
Please don't confuse when I say the room numbers and all.  Ours is an apartment, and there are no house names here. Every house is numbered in a systematic order, in each row.  Starting from one, two, like that… it goes around fifty houses, or sometimes even more.
And, our house number is thirty-five. The door was ajar and he was standing there brushing his teeth. Well, who is this new guy? It seems that more or less he belongs to our age.  No… Of course, not good looking like me. His hair reminds me about the famous cartoon character Mouglie, in Jungle Book, that I used to watch on Sundays. Sometimes it also reminds me the noodles which my Mamma used to serve me for breakfast.
Sachin came behind and told me that the new guy had arrived there last night. By the time, Sanjana and Sreejith also joined us.
"What ya Ashitha? That's your new boyfriend?" Sanjana asked.
"Slowly ya, he will hear… Stupid girl you…"
I went wild.  Sometimes this Sanjana no, she doesn't even know what she will be speaking about. Just imagine if someone else would have heard this nonsense… Loudly speaking!
"Come ya Sanju, we will go and talk to him,"
We went near him.  I asked, "What is your name?"
"You tell first."
"Is that your name?" Sachin asked him back. Everyone started to laugh.
"Will you just keep quiet, Sachin? Small children have nothing to do here." I shouted at him.
"Friend, I asked you first. Do you have manners?" I once again asked the new guy.
"Go ya… you only not have manners.  First you should introduce, and then ask me okay?"
"Okay then… My name is Ashitha. Yours?"
"Ashitha, sorry ya, you speak well with good manners, alright, my name is Abinav, " he said.
"Abinav? Oh… What a sweet name!"
Sanjana once again looked at me as though she is teasing.
"Enough okay," she spoke in a soft voice.
For some time, I was excited for some reasons that I didn't know. I also felt happy when my cute Jennifer came running and started rubbing her body against my leg. Then purring, it began to lick my toes. But did I mention her name here, so that she had to come? Usually she used to come only when I call her!  May be she is hungry.
"Ashitha and Abinav, both names start with A.  Same pinch ya, for you both…" Sanjana whispered in my ears.
"Abinav, we have never seen you here before. Where are you from?" This time Sanjana took the chance to speak.
"Actually I stay in the boarding school, which is about sixty kilometers from here. When my school has closed for spring, I just came here to stay with my parents."
Wow… how good English he talks!  Here, only Sanjana and I speak good English.  Others don't know to talk correctly.  They do a lot of grammar mistakes!
"Yes that's fine Abinav, and nice to meet you" Sreejith said. We all shook hands with him happily, for we all are friends now.
"What about your exam results?" Sachin asked him.
"Yes, I have passed with first rank in my school."
"Is that so?" I was very excited and my voice went higher. What a coincidence! I too have passed with first rank. Is there anything else similar?
"Do you know cricket?" Sreejith asked him.
"Sorry, I don't know."
I felt very happy to hear this.
"Then better if you join these girls.  They are the ones who fit well for your company," Sreejith said.
"You go man,"  I went wild.
"Go ya, frogs in the well, you both!" Sachin passed this comment.
"No problem dude, should you be with us, you will learn cricket, and what not!" Sreejith said to him. But, honestly, I wasn't pleased when he said this.
Suddenly I heard my mom's voice, "Hey Ashitha… where are you, senseless girl?  Can't you close the tap once you finish with watering?  Careless?  You just learn from your friends, how good children they are!  I wonder, why you have become rash like this,"
Mamma then closed the faucet and spoke to the neighbor aunt "Oh my God! Both my notorious children have woken up. I should wait and see what on earth they are going to create here today". Then they both started laughing, and later she entered the house.
I wonder why my mum always murmurs like this. Am I not her child? At least once in a while she can use sweet words no?  Why does she compare me with the other children?  Did I ever compare her with Sanjana's mother?  Or with any other friend's mother?
"Come ya Ashitha, we will go home,"
"Why?  to see her blue face? "
"But hers is white face no ya Red chili?"
"Oh God!  Blue face means, angry face okay?"
We went home.  Soon after the lunch, once again we planned to come out of the house.
"Come Sachin, we will go to Abinav's house,"
"Whose house?"
"Abinav's, let's call Sanjana also,"
"But, mummy may scold us?"
"How will she come to know?  Unless you tell her, and create problems?"
"Okay, we will go then.  But you see her once, what is she doing?"
"She is sleeping."
"Ha-ha… Then we shall not waste our time,"
"Talk slowly man, okay come…"
"Come ya…"
We slowly, without making any noise, headed over to the door.  "Sachin, and don't call me what ya, go ya, and all okay, I am your elder sister.  Just mind that!"
"Okay agreed elder sister, come…"
We went to our next neighbor's room, that is, to room number thirty-six.  In the meantime, Sanjana also joined us.  We pressed the button for bell, eagerly waiting for someone to open the door.
---
CHAPTER 3
It was Abinav's elder sister who opened the door for us.
"Good morning Aunty.  I am Ashitha and this is my friend Sanjana-"
"-and I am Sachin," Sachin suddenly interrupted when we were introducing all of us. Actually he didn't have the need to tell so, but okay forget it, he is a small kid.
"We are from that house.  House number thirty-five."  I pointed my fingers towards my house.  "Is Abinav here?"
Aunt looked at us and gave a smile.  Then she called for Abinav, and he came from the next room. He was not wearing a shirt nor combed his hair. It appeared as if a devil was standing in front of us.  Suddenly when he saw us he ran to the room and put on a shirt.  Sanjana turned to my ears and whispered something that I couldn't hear clearly.
"Ashitha, what is she telling to you?  Share it with me too, if it is a joke, so that I can also laugh," Abinav said.
"That I can tell you, but not now," Sachin remarked.  We didn't speak anything, but the aunt, who was on the way to kitchen, heard this and smiled at us.  Later, the sound of the mixer grinder was heard.
We came out and sat in the portico. Aunt offered us mango squash. What a good aunt she is! She really is aware of the scorching weather.
"Thank you aunty…" we said, and we played Ludo game for a while, and later we went outside for cycling.
"When our 'red chili' got a new companion she doesn't even want to turn towards us!" I heard someone telling from behind.  We did not take notice of them. Their intention is just to tease us, I know that.
We were going cycling.  There was a drizzling of summer rain. Sometimes this summer rain brings us more happiness and we feel at times more energetic too.
"Abinav, was that your sister who opened the door for us?"  I asked him.
"Yes…"
"She was reading a book. Is she studying?" Sanjana asked.
"Yes… She is studying for M.Com," Abinav replied, peddling the bicycle fast.
"That means? Oh! Go slow…" Sanjana and I said.
"M.Com means Master of Commerce. That is what my sister said," he said.
"I saw her text book. It was this much big," Sanjana remarked. In a nick of time, while riding, she had gestured with her hands to show how big the book was.
"Maybe they have lots to study." Abinav was in the front; he stopped his bicycle and waited for the other two to reach.
"Sanjana, do you have any idea, after 10th grade then how should we get into this course Master of Commerce?" I asked her; because this is the first time I am hearing such a course.
"Might be after 10th then 11th, 12th, and then…? Then what ya Ashitha? I don't know!"
"Why does your sister need to study again?  Isn't she a grown-up girl now?" We both had the same doubt. I asked her when all the three of us stopped for a while when we saw a person selling ice-cream…
The lady who was reading the diary pictured the entire scene in her mind. She was pretty happy and she found it very interesting, as she knew how to think from the point view of a kid despite her age.  She then whispered 'Sanjana…' twice in a low voice.
There was a cool breeze and a dark cloud was going over the sun, indicating that it would start raining.  I was asking Sanjana something but she was not responding.  "Sanjana, I am speaking to you… where are you looking… Why do you turn back?  Who is there?"
"No… I heard someone calling me," she once again turned back.
"Who?" I found nobody behind us. I thought the boys would have come there, but in fact I have seen none of them.  Might be they have hidden somewhere.
"I heard a voice. Sanjanaaa… like that. Twice, I heard."
"Ha-ha…  Sanjana, stop kidding. Who is here to call you like that?" I asked her.
"But, I thought it was your voice!  Okay forget it… let's move on, come," Sanjana said.
We played for a while in the shade of the Mayflower tree.  When the weather was pleasant, we once again went cycling, straight with no destination. We will peddle it, till, till our legs get ache.  Now we crossed the gate of Lions Park, and we are heading towards the beach, which is nearly one kilometer ahead from here.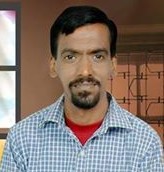 AUTHOR BIO
Lathish, 36, from India. His parents are from Kerala, and he was born and raised up in Karnataka. He did all his schooling in Karnataka and has been working as a teacher for 16 years. Had the passion of writing right from his childhood. He is a musician and also a chess player. He has been writing for a long time, and this is his first English work to be published.
Sneak Peeks are our way of helping readers find new books and authors and get previews. Please share and/or comment! Thank you!