Award winning author, Steven Gould, returns to the world of his classic novel Jumper in Exo, the sequel to Impulse, blending the drama of high school with world shattering consequences.
Cent can teleport. So can her parents, but they are the only people in the world who can. This is not as great as you might think. It's hard to keep a secret like that. And there are people, dangerous people, who work for governments and have guns, who want to make you do just this one thing for them. And when you're a teenage girl things get even more complicated. High school. Boys. Global climate change, refugees, and genocide. Orbital mechanics.  Find out more at http://us.macmillan.com/books/9780765336545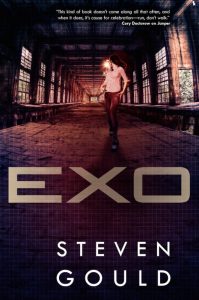 About the Author:
Steven Gould is the author of Jumper, Wildside, Helm, Blind Waves, Reflex, Jumper: Griffin's Story, 7th Sigma, Impulse, and Exo as well as several short stories published in Analog, Asimov's, and Amazing, and other magazines and anthologies.
He is the recipient of the Hal Clement Young Adult Award for Science Fiction and has been a Hugo, Nebula, Prometheus, and Compton Crook finalist, but his favorite distinction was being on the American Library Association's list of Top 100 Banned Books 1990-1999.  "Jumper was right there at #94 between Steven King's Christine and a non-fiction book on sex education.  Then the Harry Potter books came along and bumped us off the bottom of the list."
Jumper was made into the 2008 feature film of the same name with Samuel L. Jackson, Jamie Bell, Rachel Bilson, and Hayden Christensen.  In 2013 he was hired to help develop the three movie sequels to James Cameron's Avatar, as well as write four novels based on the films.
Steve lives in New Mexico with his wife, writer Laura J. Mixon (M. J. Locke) and their two daughters, two dogs, and three chickens. He has practiced aikido and Japanese sword for the last two decades, and is the currently serving president of the Science Fiction and Fantasy Writers of America.