A humorous look at when taxidermy goes terribly wrong, from the hit website crappytaxidermy.com founder. You won't know whether to laugh or cringe at these spectacularly bad taxidermy attempts, including the best of the worst stuffed animals plus step-by-step DIY mouse-stuffing instructions for a quirky, creepy, hilarious ode to bizarre animal preservation.
Find out more here- http://crappytaxidermy.com/ or here http://www.randomhouse.com/book/247692/crap-taxidermy-by-kat-su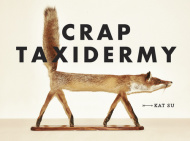 About the Author:
KAT SU is the creator of the popular Tumblr crappytaxidermy.com, an activewear designer, and now a reluctant amateur taxidermist residing in NYC.