I was challenged by Tamara McHatton to answer four question and then find at least three more authors to do the same.  So if you're an author and you take this challenge be sure to comment with your link so we can find you!
Now…for MY challenge, here are the questions with my awesome-ish answers!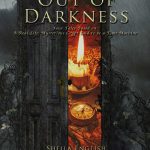 1) What are you working on?
Currently I am editing my Gothic suspense novel, The Blood Quill Thrillers Series.  It's Penny Dreadful meets Supernatural  with a little time travel thrown into the mix for fun.  If you'd like to check out the prequel for it you can read the short story in the anthology Time Out of Darkness for free right now off my website.
Next week I start working on my Circle of Seven series.  I have several books written in that series, but need to re-write the first novel. I wrote it long ago and have grown so much as a writer since then that I really feel the need to re-write it from scratch.
2) How does your work differ from others of its genre?
I think the mission of any author is to make their work differ even slightly from others in its genre.  For me, I like darker stories.  Not depressing or gross, but dark where the hero has to make decisions that will weigh on his soul forever and then we watch how that affects him afterward.  I kill people in my books, but I don't let animals be harmed.  I like edgy and am willing to go over that edge if my story needs to go there.
3) Why Do you Write What You Write?
I like to read the type of books I write.  I think most authors do.  I love all types of books, all genres, but I love dark and edgy.  Even my Young Adult trilogy; The Faith Healer's Daughters, is darker than a lot of YA out there.
4)How Does Your Process Work?
I don't know that I have a set process, to be honest.  I like to do "Power Hours" and write with my friends as a challenge.  I love to listen to music for inspiration. When I come up with a character I often take a picture of an actor or actress that I think looks like that character and I like to look at it as I write.
Hey! That wasn't so hard, or complicated!  I know of a few authors that I really love that are also doing this challenge, so I'll share that with you!
Amanda Jayde:I have been telling stories for years, but never let anyone read any of them until recently. Urged on by one of my close friends, I entered an erotic story competition sponsored by Romantic Times Magazine and much to my surprise I became a finalist and my dream of becoming published was born.
I left my hometown of The Bronx, NY to move to a decidedly warmer climate and slower lifestyle in a small town in Florida. When I'm not writing you can find me curled up with a book.
www.amandajayde.com/blog
www.facebook.com/authoramandajayde
Lysa Demorest:
I'm a rural Texas girl who wishes to be on the beach in Florida with my co-author, Tamara McHatton, or in an ideal misty-all-day Scotland. I am currently in the last few classes of my bachelor's degree in English Literature and have to fight with my Tabby cat, Dara, for control of my laptop in order to write. When I'm not nose deep in textbooks or in my own little worlds, then I'm editing for Desert Breeze Publishing and deciding what I want to do with my English Lit degree. (Suggestions are welcome unless it's teaching! I'll teach if it means online classes that I can do while I'm in my comfortable PJs. It's all about comfort.)
My first book with Tamara is military fiction, historical, with a sequel on the way. Next on my plate, with many files saved in the works in progress, is delving into my literary love of science fiction.
A fan of lists, my current to-do includes working on making my blog more active, make the muse sit down to write the start of my stories, and drink more tea.
https://www.facebook.com/AuthorLysaD
http://lysademorest.wordpress.com/
Gail Delaney — Gail R. Delaney has been actively writing 'for publication' since 1996, but wrote her first novel at the age of sixteen. That first novel — a high fantasy with Biblical connections — is still sitting on her computer, waiting for the major rewrite that will make it acceptable. She says she has learned a great deal since writing that book, and it shows when she looks back at that rough draft. Gail has had several novels published in the genres of contemporary romance, romantic suspense, and futuristic romance. Her novels have received several nominations and awards since she was first published in 2005. Gail's website is www.GailDelaney.com, but she also maintains two active Facebook pages. www.Facebook.com/AuthorGailRDelaney is her page for all her writing, and if you are a lover of futuristic sci fi, be sure to likewww.Facebook.com/PhoenixGailRDelaney
Now, for those of you who area authors please do take the challenge, answer the questions and send us a link to your blog!!